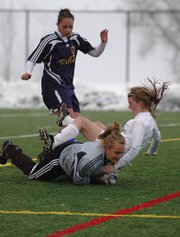 Steamboat Springs — Steamboat Springs girls soccer coach Rob Bohlmann and his Rifle counterpart, Rob Knighton, agreed on one thing about Tuesday night's soccer game: The two teams each played drastically different halves, both Steamboat and Rifle coming away claiming victory in one of them.
Rifle came away proud with a second half in which it held Steamboat scoreless and scored a goal of its own. The Sailors' four goals in the first 40 minutes proved decisive, however, as Steamboat defended its home field for the third consecutive game, winning Tuesday, 4-2.
"It's a win we don't feel great about. The first 40 minutes was solid, but we never found our rhythm in the second 40 minutes," Bohlmann said. "The second 40 minutes was far from sharp. For us, that's unacceptable, especially when our first 40 was so good."
Just as it did Saturday in a 10-0 rout of Delta, Steamboat controlled the game early. Goals by senior Miranda Schorck and sophomore Kiersten Henry helped the team to a lead as the Sailors applied pressure throughout the half.
"We knew coming in it would be our first real test, and we got caught flat a little," Knighton said.
Rifle answered with a Sandy Samson goal, one of two the junior scored, but Steamboat sophomore Hayley Brookshire scored a goal off a Carly Earp pass and McKenzie Worden slid one more in during the 30th minute.
Bohlmann said it was all there in the first half as his team played aggressive, controlled the ball on offense and stifled nearly every Rifle attack.
"We were doing all the simple things pretty darn good," he said. "We had two and three choices on who could deliver. We were taking the game to them, and we found our rhythm, which created a lot of opportunities."
Rifle claimed the second half. The Bears' one goal - when Samson put one in on a corner kick opportunity - wasn't enough to lift the team to victory. It was enough to convince Knighton the team was making progress, however.
Rifle slowed the Steamboat attack. Senior Mindy Gonzalez worked to stunt many Steamboat drives and goalie Abby Schmidt picked up everything that got through.
The senior, in her first year playing in goal, has 12 second-half saves, twice diving in front of charging Sailors to pull in loose balls.
"We regrouped in the second half. We wanted to come out and win the second half, and we did," Knighton said. "I hope we take out of this that if we play aggressive, play our game, find feet and move without the ball, we can play with anyone."
Steamboat, 5-1-1 on the season, returns to action Saturday at Eagle Valley.
There, Bohlmann said he hopes he sees the team that played Tuesday's first half, not the one that stumbled through the second.
"We hope this is not a trend for us," he said. "We have to pull away from this as a learning lesson and be more demanding of ourselves."