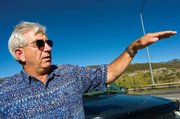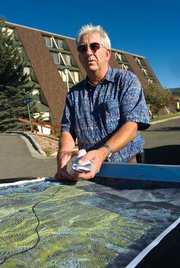 Steamboat Springs — John Fielding never meant to become famous - or infamous - by nature of his proposal for a bypass over Howelsen Hill.
"I've always kept a really low profile in this town," Fielding said, "and I fear that's over."
When Fielding submitted his suggested route to the city, he intended to do so anonymously. But one way or another, it has become known as "the Fielding proposal." His success at maintaining a low profile up to now is evidenced by the fact that one of the most common questions his proposal has raised is, "Who is John Fielding?"
Fielding is a design consultant and 1970s graduate of The Lowell Whiteman School who moved back to Steamboat Springs from central Utah in 2001 - because of the traffic. While admitting to spending hundreds of hours developing his proposal throughout the years, Fielding described the effort as "not substantial."
"It's just making a contribution to the community," he said.
Fielding's proposal was among several discussed at the Steamboat Springs City Council meeting Wednesday. No further discussions have yet been scheduled.
While the Fielding proposal is more or the less the same as the over-Howelsen-Hill options that have been kicked around for four decades, there are indications the idea may be gaining steam. In addition to the city, Fielding has presented his idea to Main Street Steamboat Springs, State Sen. Jack Taylor, R-Steamboat Springs, the consultants behind a proposed world-class Nordic center at Howelsen Hill and others.
Taylor, who says he has been calling for a bypass for the past 30 years, said the Fielding proposal "probably makes the most sense of any I've seen in 30 years."
Private minds
Fielding isn't the only private person to step up to the plate with a proposed solution to Steamboat's traffic woes. Steve Elkins, a Prudential Realtor and former Steamboat Ski & Resort Corp. engineer, has drawn up an option that is mostly the same as Fielding's, except it doesn't include a tunnel and it reconnects to U.S. Highway 40 at Mount Werner Road, rather than at Pine Grove Road.
Elkins said his father, as mayor of Steamboat in the 1960s, had a similar idea. Elkins said he was behind the design and construction of Steamboat Boulevard, Hilltop Parkway and a reconstruction of Mount Werner Road. Elkins, who claims he "has an eye for seeing stuff before it's there," said his motivation for drawing up the proposal is similar to Fielding's.
"I think there's a real problem," Elkins said. "It's irresponsible if they don't do something."
Deputy City Manager Wendy DuBord said she is happy to see people coming to the city on their own time to suggest solutions to a community problem. In this case, however, she's not sure if the proposals are different enough from similar ideas that have been suggested, and rejected, in the past.
"I think it's great that people are interested and looking for solutions because maybe they will chance upon something we haven't thought of," DuBord said. "This, however, is something we've looked at before."
Fielding, who said ideas are his stock and trade, said he hopes more people start working on solutions and believes that if enough people do, they'll come up with something that works.
"This is by no means what ought to be considered the last and best word on the subject," Fielding said.
Pros and cons
"You can't pave your way out of this issue," said Lyman Orton, who owns 1,200 acres above Howelsen Hill. "If building roads worked, Los Angeles would have solved its problem. My fear is people look at those things as a silver bullet."
Orton believes a road over Howelsen Hill would destroy something essential to Steamboat's character. He denies claims that he just doesn't want it near his land, noting that he leaves his land open to the public for anything except motorized access.
"I allow people to use it," Orton said. "And I'll tell you, people do. I don't even think it's my land. I'm just a steward of the land. I'm trying to speak to a higher calling than just a landowner."
Both Elkins and Fielding dislike the term bypass for their road proposals, preferring terms such as "reliever" or "parkway."
"I think when people think of bypass, they're thinking of I-70," Elkins said.
The two claim the road would be a benefit, not a detriment, to the existing open space on Emerald Mountain because it would allow more people to access it.
"There's really no way to get there unless you're a jock," Elkins said, noting that the bypass wouldn't attract development because it is zoned for open space. "The beauty is there's nothing there for it to access except parkland."
Orton, however, challenged the notion that everything needs to be accessed by an automobile.
"It's a deep refreshment for the soul when you go up there," Orton said. "You won't have that sense of nature. You'll have a sense of noise."
Fielding said the road would provide relief to already congested parking at the base of Howelsen Hill, especially if the city moves forward with a proposed world-class Nordic center at Howelsen Hill.
"This needs to be as much about improving our access to recreational purposes as getting around our traffic problems," Fielding said. "We can build this to be a shining example of how we can build a traffic corridor."
Jonathan Wiesel, who, with his partner John Frado, did a feasibility study of the Nordic center for the city, said the road could solve some of the problems encountered in their study, such as how to get novice skiers up to the easier terrain above Howelsen Hill. On the other hand, Wiesel said the audio and visual effects a road might have could be a detriment to the center.
"It would probably take care of some of the parking and access issues," Wiesel said. "We haven't really reached any conclusions, but it could be helpful, and it could also cause some concerns."
Is it possible?
In the end, both Fielding and Elkins admit that their roads aren't perfect and would face significant hurdles, but in their minds that doesn't change the fact that "something needs to be done."
There are no concrete cost estimates for how much such a road would cost, but city officials said it likely would be in the tens, if not hundreds, of millions. DuBord noted there also would be difficulties when it comes to right-of-way acquisition.
"This isn't property that we own," DuBord said.
Difficulties aside, officials say the road is possible from an engineering standpoint.
"I'm sure they're doable," Transportation Director George Krawzoff said. "I don't think technology is an issue because enough money cures technology. But the social and aesthetic issues are huge."
Fielding and Elkins said they chose their routes because, while they would have some negative effects, those effects would be minimized.
"The truth is, there's no good place for a highway," Fielding said. "There's never a good place for a highway. My alignment I picked mostly because of its minimal impact to businesses and residences. Of course, if we want to build a road, we build it regardless of what's in the way. It's just that it's a shame that we have to tear down a building."
Elkins said other options could destroy the nature of downtown.
"Anything you do downtown, you start changing the nature of downtown," Elkins said. "You have to be more open-minded about this. We're doing this to allow people to have a more enjoyable lifestyle."
Elkins added that reconstructing existing roads would involve the costly realignment of utilities, whereas a road over Howelsen Hill would be a "clean-cut, dirt-moving project."
Something must be done
"This is as clearly a blighted area as we've seen," Fielding said, referring to downtown Steamboat. "We are blighted by traffic. We're really a town of 50,000 on a busy weekend, and there's no reason in the world to think we're not going to continue to grow."
While solving the traffic issue in Steamboat presents various disagreements, one thing everyone seems to agree on is the problem does need to be solved.
"I sure know Steamboat needs something to relieve that downtown congestion," Wiesel said. "We don't live there, but we spent three weeks there this summer and, gosh, it's tough. It's not pretty."
Taylor said traffic has gotten to the point that it is no longer enjoyable to shop or dine outside downtown due to the noise and smell of traffic. Tracy Barnett, executive director of Main Street Steamboat Springs, said merchants are starting to say the traffic is a detriment to their businesses.
"If there's gridlock now, what's it going to be in 10 years," Sen. Taylor said. "I think we need to look to the future and plan ahead."
Orton believes public transit is the answer, in addition to finding ways to get people out of their cars, either through paid parking or other measures. City officials say they haven't given up on multi-modal solutions, and Krawzoff noted the city spends $3 million a year on Steamboat Springs Transit. The problem, Krawzoff said, is that the city's buses are caught in the same congestion as the rest of traffic. But while it is a challenging problem, he said it is not an impossible one.
"We're going to solve this," said Krawzoff. "I'm convinced."