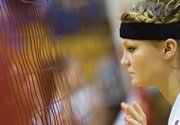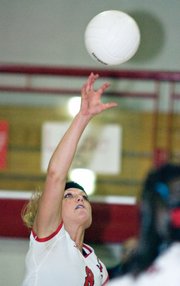 Steamboat Springs — If the Steamboat Springs volleyball team's win against Palisade on Friday - one where Sailors struggled to block at the net - left head coach Wendy Hall with a sour taste in her mouth, then a refreshing four-game "team win" against Delta on Saturday cleansed her palate.
The Panthers brought a team with a different look, having lost a core of seniors as well as two key power hitters from the squad that beat Steamboat twice last season.
Rather than looking to match Steamboat's potent offense, Delta (2-8 in Western Slope League play) looked to place the ball over Steamboat's front line. After a first-game loss, 23-25, Steamboat modified its attack and came back to win the next three games, 25-18, 25-22, 25-9.
"We played steady and more consistent, made adjustments through the match and kept our cool when things were tight, didn't panic or lose our cool," Hall said. "Or our confidence."
The Steamboat offense opened strong, jumping to a 10-3 lead on five kills and two blocks from Katy Gary. Delta's Brittany Smith began tipping shots over Steamboat's block, and Delta produced its best blocks of the match. Lisa Floyd sparked a late comeback, tying the match at 20-20, but the Sailors' run ended on a serving error.
Steamboat took control in the second game. Setter Colleen King hustled across the floor and dove to save rallies from the Panthers' indirect attack, disrupting the passing flow and forcing other Sailors to step up and fill the setting void.
Hall noted the play of Natalie Nichols in backing up King and Floyd's coverage on the wing. The final point of game two, a perfectly quick-set ball from King to Maggie Kriz, who stormed in and smashed the point home, indicated things to come in the final two games.
"I feel like (the offense) is really coming together," Kriz said. "Colleen's sets have been so on that the hitters have been able to do much better."
The Steamboat offense was most evenly distributed in game three as King, on her way to 29 assists, set up Gary, Heidi Lord, Nichols, Floyd and Kriz for a combined 10 kills.
"They have such a strong row, and (King) is so tough to read because she can slam it with her left hand," Delta coach Leigh McLaughlin said of King, who added two kills of her own in the game.
Game four had much less to do with the Sailors' play than with the Panthers' collapse.
"We just would lose our focus and intensity and fall apart," said Smith, who led Delta with 10 kills but could do nothing to prevent her team's nine errors in the final game.
It didn't hurt that Lord served for a 12-0 point streak, where Gary knocked four kills.
The win puts Steamboat at 6-2 in league as it heads into a key league rematch at 6:30 p.m. Thursday at Battle Mountain.
- To reach Dave Shively, call 871-4253
or e-mail dshively@steamboatpilot.com