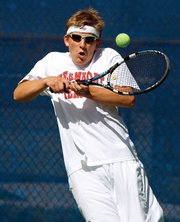 Steamboat Springs — There's always two ways a team can take a loss like the one the Steamboat Springs High School tennis team suffered to Kent Denver.
With regionals right on the horizon, the Sailors could let Saturday's 6-1 loss carry over and affect their play at the regional tournament in Montrose on Thursday and Friday.
Or, as Steamboat coach John Aragon is hoping, it could serve as a lesson and a wake-up call for a young Sailors team.
"I hope they use some of the things they saw in this match and take it into the next few days and see themselves being successful," Aragon said. "I think if they do, they can have a great regional tournament."
Steamboat's lone win in the match came at No. 1 singles. Kent Denver's J.J. Schpall couldn't make the match because of illness and had to forfeit.
Other than that, Steamboat was beaten in straight sets across the board.
While the numbers don't look favorable for the Sailors, the No. 2 doubles team of Keegan and Jack Burger took its match to a tiebreaker in the second set, and the No. 4 doubles team of Mirko Esparmer and Vladen Chase lost, 7-5, in its first set.
"Our No. 2 doubles and No. 4 doubles teams played teams that have beat the best in the state, and they were right there with them," Aragon said. "That ought to give them confidence that they can go out and, if they get through regionals, they can beat one of those teams at state and medal."
Aragon said coming into the day, he was expecting a hard-fought match that could go either way.
But when he found out Sailors No. 1 player Ramsey Bernard wouldn't be able to play because of Schpall's illness, he said it might have had a trickle-down effect.
"It would have been neat to see (Ramsey) play," Aragon said. "If he could have got a victory there, it might have sent a message, and something could have happened with these younger kids."
Although the loss was lopsided, it was against one of the best teams in the state. Traditionally, Kent Denver battles with Cheyenne Mountain for the top spot at the state Class 4A tournament.
"Steamboat is always one of the top teams in the state, historically, so for us to come up here and have a good day, obviously it instills confidence in the guys that we're doing well," Kent Denver coach Randy Ross said.
With regionals starting at 8:30 a.m. Thursday in Montrose, Aragon said he'd try to refocus the team this week in practice and get them to play more aggressively.
"We played safe," Aragon said. "When you have that in against a good team, you go for it. I think that will be the key for us going into the regionals. When you're set up, you have to go for it."