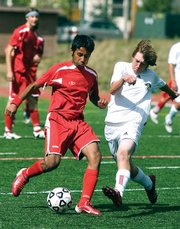 Steamboat Springs — Last year, the Steamboat Springs-Glenwood Springs boys soccer rivalry saw each team take home a win on its opponent's pitch. This year, the home field ruled.
Steamboat's offense delivered again Saturday for a 3-1 win against Glenwood to extend a three-game winning streak during which the Sailors have outscored opponents, 17-1.
Granted, the Demons proved a much stauncher Western Slope League opponent - at 3-3-1 in league play, they beat the Sailors, 2-1, in overtime in their Sept. 15 meeting.
If Steamboat struggled early in the first half to convert prolonged possessions into scoring opportunities, Glenwood struggled even more. The Sailors out-shot the Demons, 10-4, in the first half.
"We were flat in the first half, we had no combination play and the defense was playing too conservative," Glenwood head coach John Mount said, citing the necessary adjustments from Glenwood's thick grass to Steamboat's slick, artificial turf. "With the pitch, our guys are used to playing the through balls where it doesn't roll as fast."
Not that the Steamboat defense didn't pull its weight. Bryce Peters and Michael Lyon slide-tackled their way to a slew of stymied Glenwood attacks, and left fullback Colton Harding repeatedly turned Glenwood runs by forward Travis Whitman the other way with a controlled brand of defense.
"Our two center backs are making things so solidified back there that it creates rhythm for the outside backs to play composed," Steamboat coach Kenny Reisman said of the D anchored by Peters and Lyon.
Steamboat finally found the net 23 minutes in when Glenwood goalkeeper Kurt Hartmann popped a tough shot from Tony Rende out to Daniel Wright, who knocked in the rebound for a 1-0 lead.
Glenwood came out eager to score in the second half as Ryan Young got loose enough to rip a shot that Steamboat goalkeeper Connor Birch got just enough of to send wide.
Glenwood continued the pressure and reflected Steamboat's first-half control - the Demons owned possession time and got the better looks on cage.
"We put our stopper (Dillon Martin) into a more offensive role, and I thought we dominated the second half - it just took a while to get used to the pitch," Mount said.
The Sailors regained the offensive swagger they showcased in their 6-0 Monday rout of Moffat County and finished the chances they did have.
Wright found a wide-open Sean Hurst, whose shot sailed high. But on Hurst's next touch, from Blake Eddington, he delivered. Striking the ball across his body, Hurst beat Hartmann to the far side with a low shot to send Steamboat up, 2-0.
"You can go a whole 80 minutes without scoring, but you just gotta keep going for the back of the net," Hurst said.
The Glenwood D keyed in on Hurst and gave him a push that resulted in a direct kick and another Steamboat goal from Wright, who trapped Eddington's kick and sent it home to go up, 3-0.
Glenwood saved themselves from a shutout when Young sent a well-placed shot past Birch - who finished with eight saves - with four minutes left on the clock.
"Having played a good, solid team here, this puts us in a good spot and keeps us going in the right direction," Reisman said.
Steamboat (4-3-1 in league, 4-5-1 overall) next plays at 4 p.m. Thursday at Eagle Valley.