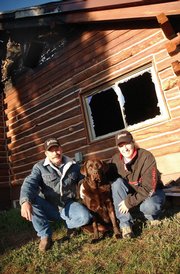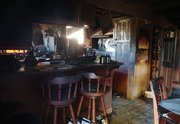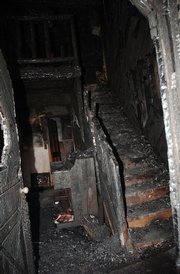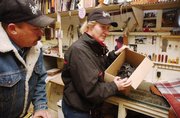 How to help
Donations to help Kay and Brett Brooks and their chocolate Labrador retriever, Sammy, may be made at the following Routt County businesses:
Elk River Farm & Feed: To make donations to "Sammy's Wish List" for her pet needs, including food, toys and beds, call 879-5383 or stop by the store at 2680 Copper Ridge Circle. Hours are 10 a.m. to 6 p.m. Monday through Friday and 9 a.m. to 5 p.m. Saturday.
Soda Creek Western Outfitters and Catalogue in Oak Creek: To make donations, call 736-2811 or stop by the business at 224 Arthur Ave., from 9 a.m. to 6 p.m. Monday through Friday. Money is being set aside in an account that will allow the Brookses the opportunity to purchase items for their new home at cost.
Mountain Valley National Bank in Hayden: To make donations, visit the bank at 101 N. Sixth St. or call 276-9099. Checks can be mailed to Terri Reynolds on behalf of the Brookses at 61973 U.S. Highway 40, Maybell, CO 81625, or call Reynolds at 276-9099.
Steamboat Veterinary Hospital: To donate money to the Brookses' $1,800 veterinary bill for Sammy, call 879-1041 and talk to Sue or Jennifer.
Steamboat Springs — Kay and Brett Brooks were driving home from celebrating their seventh anniversary in Steamboat Springs on Sept. 16 when Kay noticed smoke coming from their 3,200-square-foot log cabin home off Routt County Road 37.
"From the highway, we couldn't see all the fire trucks yet, but as soon as we pulled into the driveway, we saw them and I said, 'The dogs,'" she said. "That's all I could think was the dogs."
The Brookses, who don't have any children, had Sammy and Gus, two chocolate Labrador retrievers that Kay described as "boyfriend and girlfriend." To the Brookses, their dogs were half the family.
Unfortunately, Gus didn't survive the fire that completely destroyed the inside of the Brookses' home. Sammy was found by West Routt Fire Protection District firefighters after Kay told them
she had not one, but two dogs. Firefighters had found Gus upstairs near a door.
"I believe (Gus) was still upstairs because he was barking and trying to get Sammy out," Kay said Wednesday at the couple's saddlery shop in Hayden.
The couple's arena and saddlery shop was not damaged during the fire.
Dr. Michael Gotchey, a veterinarian with Steamboat Veterinary Hospital, said Sammy was found in the home's basement with her head and nose under her little dog bed.
"Sammy made it downstairs," he said Thursday. "When they found her, her head was under her bed. I don't know how she knew to do that or why, but it probably saved her life."
Once firefighters found Sammy, Routt County Sheriff's Office Dep. Dara Frick took the Brookses and Sammy from the scene and rushed them to Gotchey.
"As soon as I saw life, I said, 'Let's go,'" Kay said. "I asked Brett if he was driving and Dara said, 'I'm driving.'"
Gotchey said he treated Sammy with oxygen and steroids for smoke inhalation and carbon monoxide poisoning.
"When she got to me, she was just barely mobile. She had been out and down long before she arrived," he said. "They flew like hell to get to the clinic."
Two weeks since the fire, Sammy is doing better but still has a slight cough Gotchey likened to a smoker's cough.
"She's slowly and progressively gotten better," he said.
'He was the man'
Gotchey, who has known the Brookses as a vet and a friend, said losing Gus was like losing a child for the couple.
"I can't even imagine driving home after your anniversary and seeing your house on fire, and then finding one of your dogs dead and the other pretty much comatose," he said. "That's what gets you. You can replace your shoes or your socks or your underwear, but when you see your dog, your family, out there. : That's the way it is with them. It'd be like seeing one of your kids. It's quite a blow."
Since the fire, the Brookses said one of the hardest things to deal with has been watching Sammy play without her "lover."
"Her personality has definitely changed, which is to be expected," Kay said. "Gus was the man."
Kay said the couple was planning to breed the pair of Labs, but that they had not yet had puppies.
"That was the intent," she said.
Gotchey said dogs suffer depression when confronted with loss, just as humans do.
"It might not be on the same level, but you definitely see dogs go into a deep depression after something like this. Some dogs quit eating, they quit going around," he said.
In extreme cases, some dogs will never leave a partner.
"Some dogs just will never leave their side," he said. "The dog will lie next to them with a paw on them and never move."
Gotchey said Gus was brought back to the clinic later in the day on Sept. 16, and Sammy had a chance to say goodbye.
"She saw him and sniffed around until she was done," he said.
'That's what friends do'
Kay and Brett Brooks met like all real cowboys do - on the rodeo scene.
Kay, a barrel racer, and Brett, a saddle bronc rider, both have been incredibly successful in their careers, winning countless rodeo buckles, trophies, saddles, spurs, sashes and other awards.
Despite losing everything else, those mementos were among the hardest to try to salvage.
"They're irreplaceable," Kay said. "You always think if you were here you could have gotten your dog out, your valuables. "This is all that's left. This is what means the most to us."
Kay, holding a small cardboard box, shook the few prized possessions they were able to find.
"It took us three or four days before we could see if there was anything salvageable," Brett said. "We just spent days kicking around through ashes."
Maybell resident Terri Reynolds has known the Brookses for years. Reynolds has set up a donation fund for them at Mountain Valley National Bank in Hayden.
Reynolds, like all their friends, described the couple as "down-to-earth."
"They're just the nicest, sweetest, most down-to-earth people," she said.
Reynolds said she opened the account to help the couple because "that's what friends do."
"We all rodeo," she said. "The rodeo community takes care of itself. We all take care of each other."
Amanda Sumerlin, an employee at Elk River Farm & Feed, dogsits for Sammy and has offered her home to the Brookses since the fire.
Sumerlin said along with Kay and Brett, Sammy lost everything in the fire.
"She needs toys, rawhide chewies, a dog bed, anything a normal dog would," she said. "She is just a normal playful dog. She's very laid back. We call her our Big Buddha puppy, because she's a big girl."
Sumerlin said she is proud of how the Brookses have chugged through the painful process of beginning to rebuild their lives.
"For what they've been through, they've been holding their heads high," she said. "They're shining stars."
Gayle Keller, owner of Soda Creek Catalogue in Oak Creek, agreed.
"When I read the article that their home had burned down, I thought, 'Oh, no.' I had to help them," she said.
Keller, who has known Kay for years through dog agility trials, said she began accepting donations at her business for the Brookses to purchase household items when they're ready.
"I can't imagine losing your whole everything," she said. "I just can't imagine. We offer clothing, bedding, glasses, silverware, whatever, and it's all Western, which they prefer. This will help them set their house up again when it comes time to do that."
Rebuilding a life
Almost immediately after the fire, the phone started ringing.
People like Sumerlin, Keller and complete strangers began offering everything from washers and dryers to food to free stays in Steamboat Springs condos.
"When it first happened, everyone was calling," Kay said. "We were hearing from people all over Northwest Colorado. That kind of human kindness has been overwhelming.
"We definitely want to thank the community for the unbelievable acts of kindness from all of our friends and all the friends we didn't know we had," she said. "Thank you for your prayers."
Because the home has been deemed a total loss, the Brookses do not have an option to remodel. The couple does have homeowner's insurance.
Tearing down the house and rebuilding before winter sets in is not an option.
For the time being, the Brookses are living in a trailer on their property and don't know what they're going to do for the rest of the winter.
Brett began meeting with planning officials this week, and the couple hopes to have a new home built on their property by this time next year.
"The problem is, we just don't know what's next, that's the hard part," Kay said.
Watching the house burn down wasn't as bad as looking at it every day, she added.
"You're sitting there watching your house burning. You're not crying. It's so surreal. It's just nuts," she said. "Now, I'm just sick of looking at it. It smells terrible. It's a terrible memory that I'm ready to tear down."
Fire and insurance investigators said the home was struck by lighting, which could have spurred an electrical fire, Brett said.
While the Brookses understand their situation, they don't want pity from the community, because they still have each other and a marriage stronger than any natural disaster.
"Don't feel sorry for us," she said. "We love each other, and we're very strong."
"We weren't going to let this beat us," she said. "We have each other. We have Sammy. And that's a lot."