Cyclist returns home, reaches 'halfway' in epic quest
Sunday, September 30, 2007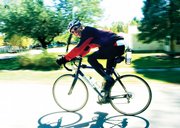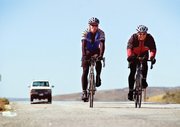 On the 'Net
At www.healthyaltitu..., readers can view the full Ride for Your Life itinerary, track Gary's progress, check photos from the rides as well as blog entries. Information also is available on donating to the project and to the Lance Armstrong Foundation.
Steamboat Springs — The children outside the elementary school in Tishomingo, Okla., didn't quite understand the guy cycling through their town on his blue LeMond Alpe D'Huez. But they made sure to extend a hand and find out.
After Gary Gianetti high-fived about 400 little hands, he explained he had just completed 3,500 miles, more than the distance from Seattle to Miami, of his goal of 5,000. He was crossing the country, knocking off a 100-mile "century" ride in each of the 50 states. He was doing it to raise funds for cancer research and to make people like them think about their own health and goals. And he was going to do it in 50 consecutive days.
"That's impossible," a little girl proclaimed.
"No, it's happening," Gianetti answered.
The moment made Gianetti laugh and helped him forget about the sweltering 90-degree temperatures of the ride. He didn't have much time to reflect anyway, because he had to quickly pack up the Dodge Caravan and its trailer for the 430-mile drive to Topeka, Kan., and the next day's ride.
Such is life on the road for Gianetti, a 29-year-old Steamboat Springs resident and personal trainer, since his journey began Aug. 18 with the Steeple Chase Bike Tour in Willimantic, Conn.
Gianetti tries to keep track of each day, waking up in a new state. But the days can blend together with each ride, each friendly new ride companion, each night of donated lodging and, of course, each of the daily 7,000 calories of consumed fuel - most of which consist of Subway sandwiches, IHOP breakfasts, Honey Stinger Energy Bars and any all-you-can-eat buffet within sight.
It hasn't all been that simple or easy. On Tuesday, for his much-anticipated return to Steamboat, Gianetti prepared to tackle the challenging 105-mile Tour de Steamboat course that climbs Rabbit Ears, Gore and Yellow Jacket Passes.
But a pass covered with new snow and a valley socked in with fog and cold temperatures left Gianetti deflated. He wasn't alone. Only one local cyclist, Dan Lemmer, was there to accompany - and help break the wind for - the weary rider. With the safety of a slick pass in mind, Gianetti and Lemmer decided to do 100 miles by riding west to Hamilton and back. Still, Gianetti had a tough ride. He had an unprecedented three flat tires.
But he still was feeling energized from the memory of his mother that originally inspired him to set the lofty personal mission and helped him through a trying ride in Wyoming.
"Yesterday was the day I lost my mom," Gianetti said of his mother, Francine deBoer, who died of lung cancer Sept. 24, 2003, at age 52. "So, something else was pushing me. It certainly wasn't the weather - we could only go 17 mph getting pelted in the face with pea-sized hail."
After the sun came out and the spare tubes were in place, Gianetti and Lemmer completed ride No. 39, pulled off Lincoln Avenue onto Fifth Street and caught their breath. Gianetti then elaborated:
"I want to show people you can do what you set your mind to," Gianetti said. "I lost (my mother) to a disease that's preventable. My mom didn't feel bad - it was a clear life choice. My goal is to show the opposite."
The high-minded goal - fundraising benefits go to the Lance Armstrong Foundation and other local programs that empower cancer survivors - coupled with Gianetti's rampant enthusiasm caught the attention of an equally-as-driven adventurer, Scot Ward, before the journey even began.
Ward and Gianetti met over a cup of coffee at Copper Mountain on Aug. 4. Gianetti was training on the 78-mile Colorado Cyclist Copper Triangle. Ward had ridden his bike from Lexington, Ky., to Denver and was five days into the Colorado Trail. Gianetti didn't think Ward was serious about helping him with the trip until Ward hitchhiked back to Kentucky and met Gianetti for ride No. 15 in South Carolina - just in time to switch out the driving and endless logistical duties with Steamboat's Marin Campbell.
"You see someone that's so ambitious to set a goal and see it done, I said to myself, 'you need to help someone here that's just like me,'" said Ward, 33. "I'm thinking back, and you know, (cancer) has affected my life. I think we're leading by example and with my personality, it's not good enough until we're there. : But there's barely enough time to even think about the day that's happening right now."
With Ward driving and Gianetti eating, sleeping and riding, the drain of the frenetic schedule was beginning to show.
"My day starts at 4:30 a.m., I write a few emails, catch breakfasts, tune the bike and try to be on the road by 7 a.m.," Gianetti said. "It's tons of overtraining - I'm exhausted."
But having completed the Steamboat ride and heading west to the Utah desert for No. 40, Gianetti said he felt like he had finally reached the "halfway" point.
"I run marathons as a 20-mile race and then a six-mile race, and we're coming up on that hardest, final part," he said.
The "second-half" crux of the journey is where the logistical challenges outweigh the physical. The duo dropped the trailer in Steamboat to streamline the process. They planned to ditch the van in Las Vegas on Saturday to fly to Portland, Ore., for today's ride. Then, it's up to Anchorage, Alaska, on Monday and back Tuesday to Seattle to knock off Washington, Idaho, Montana and then to California in time to make it to Hawaii for the Oct. 6 finale.
"I guess if you're going to be stupid, you gotta be tough," Gianetti jokingly recalls of the advice he got from his Louisiana cycling companion. But then he notices his watch.
It's 3:15 p.m. They're behind schedule.
"Let's go," Gianetti says
to Ward.
It's a flurry of activity - rush for new tires, rip off the shoes, stow the bike, mount the trailer, and they're off to the next state.