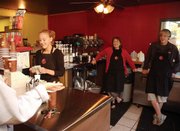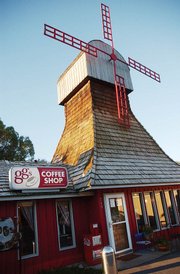 If you go
What: GGs Coffee Shop
Where: 745 East Jefferson Ave., Hayden
Hours: 6 a.m. to 7 p.m., Monday through Saturday
Menu: Hot and cold drinks, bagels and other snacks
Steamboat Springs — When Hayden police last week asked a barefoot 3-year-old boy what he was doing running down Jefferson Avenue unattended, he told officers that he wanted to check out the new coffee shop in town.
That's the sort of buzz that GGs Coffee Shop, at 745 East Jefferson Ave. in Hayden, has created. The shop is the only one of its kind in the small, but rapidly growing, town. The child - who might have been running home, since owners say they remember him wandering around the shop - was safely returned home, police said.
"It's something different for Hayden," said Samantha Deluca, who was visiting the shop with three other Hayden High School juniors Tuesday.
Deluca said she and her friends come to the shop every day on their lunch break to relax. All four of the girls ordered vanilla big trains, a frozen coffee drink. Deluca said before GGs, the only coffee option in town was Kum & Go. The girls said they used to travel to Steamboat to get coffee from Starbucks, but they enjoy GGs because it is closer, cheaper and better. The coffee's slate of caffeinated options ranges from a simple, small cup of coffee for $1 to a large caramel-flavored drink for $3.45.
Four sisters, originally from Steamboat Springs, own the shop. Bonnie Girton said the shop's name is a reference to "Girton girls," the sisters' nickname when they were growing up.
"We've always wanted to do a business together," said Tammi Engle, one of the sister-owners. "It's a childhood dream."
Girton and Engle live in Hayden. The other two sisters are involved with the shop, but live in Denver and Georgia. The shop is cozily decorated and adorned with pictures of the sisters. The shop buys its coffee from local roaster Julie Spitzley of Oak Creek.
Board games strewn about the shop invite customers to hang out a while, but Engle said the shop also caters to customers in a hurry. She said the shop strives to be quick and efficient for commuters and relaxing for locals.
"We've gotten great support from locals, and commuters are starting to notice us, too," Engle said. "We have regulars already."
Girton said the shop has developed a following without doing any advertising.
The shop occupies the windmill-shaped building on the east side of Hayden. Engle said the structure was built in the 1970s and was originally a burger joint called the Dutch Mill. It most recently was a candy shop but has sat vacant for a few years.
"We're very excited about the local excitement about the business," said Girton, a former teacher at Christian Heritage School in Steamboat.
The shop may add sandwiches, breakfast burritos, ice cream and milkshakes to its menu in the next few months, but for now, the sisters said they wanted to focus on being quick and efficient with their coffee drinks.
GGs is one of three recently opened businesses in the quickly-growing town. The other two are Thistle Dew Salon at 148 South Walnut St. and A Taste of Colorado at 131 West Jefferson Ave. All three businesses will be recognized at a Hayden Chamber of Commerce ribbon-cutting ceremony on Oct. 11.
Judy Guerin, owner of Thistle Dew Salon, said the number of businesses opening in the town is exciting.
"It's big for Hayden," Guerin said. "That's why we're doing a ribbon cutting."
Andrea Wheat, owner of A Taste of Colorado, agreed and said she's excited to get in on the ground floor as a business in Hayden, which is "definitely a good spot to move because it's booming." Wheat's business, which features home decor, gifts, food and other items produced in Colorado, originally opened in Steamboat in 2005.
"I think it's great for the town," Wheat said. "It's just a great economic decision for Hayden."
Although also excited about the growth, Engle said she hopes Hayden is able to maintain its character along the way.
"It's good to see it grow some," Engle said, "but still have the small-town feeling."