Sailors volleyball defeats Palisade for first home victory
Saturday, September 29, 2007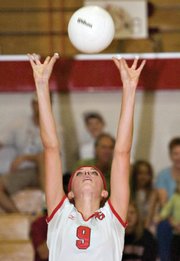 Steamboat Springs — It has been three years since the Steamboat Springs volleyball team has won a match against the Palisade Bulldogs.
Reeling from a loss at home to Moffat County on Monday, the Sailors vowed to turn their game play around and make a statement Friday. They did just that with a four-game win against the Bulldogs (3-3 in Western Slope League play), beating Palisade, 25-15, 26-24, 18-25, 25-19.
Steamboat went heavy on the offense, hitting hard from the outside - Katy Gary led the team with 16 kills, and outside hitters Heidi Lord and Lisa Floyd chipped in 12 and 10 kills, respectively - and produced just enough defense for the victory.
The win marks the Sailors' first home victory of the year.
But things could've easily swung the other way after the Bulldogs came back in a close second game that featured nine ties, and then rallied in the third game from an 11-16 deficit to go up 24-17 and hang on to win the game.
"We just picked up our game, tried to go for every ball and pushed harder," Palisade's Brittney Schmitt said of the Bulldogs' 13-1 run in the third game, in which she had six kills.
Steamboat coach Wendy Hall noted her frustration in the Sailors' inability to make game adjustments, such as reading Schmitt's left-handed hits in the third game.
"The blocking was just nowhere to be found," said Hall, pointing out the fact that Steamboat allowed Palisade senior Bernadette Pitre to rack up 15 kills. "We really need to pick up on our defense. Everything keys off that tough, blue-collar defense, and we just didn't have it tonight."
On the other hand, the Steamboat offense was able to compensate, taking advantage of a Palisade serve-receive that coach Wendy MacAskill said was a problem from the beginning.
Steamboat spread its lead in the first game after a long rally that Heidi Lord finished with a definitive kill to go up 20-13. Steamboat had 14 kills as a team in the first game as well as in the fourth, when Gary took over and notched six kills, including the final match point for the win.
Steamboat (9-3 overall, 5-1 in league) faces Delta - the team that ended Steamboat's season at last year's district tournament - at 1 p.m. today in the Steamboat Springs High School Kelly Meek Gymnasium.