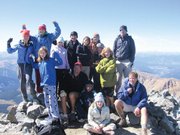 On the 'Net
For more information about the middle school's Everything Outdoors Steamboat program, visit www.eosteamboat.o...
Steamboat Springs — Some kids dream of playing catch with John Elway, while others yearn to hoop it up with Michael Jordan.
But Matt Tredway's Steamboat Springs Middle School students spent last weekend with a slightly less-famous, although every bit as impressive, hero: Cehring Dorje, a Nepalese Sherpa who has summited Mount Everest nine times.
Dorje joined Tredway and 10 students on a Sept. 21 trip to tackle one of Colorado's famous "fourteeners" - Torreys Peak - as part of the middle school's Everything Outdoor Steamboat program.
"This guy is one of the premiere high-altitude climbers in the world," Tredway said of Dorje. "He was really excited about the whole thing."
At 14,267 feet, the mountain looked massive to seventh-grader Linnea Franke, but she said Dorje's presence convinced her she would summit.
"When you are down at the bottom and looking at the summit, it just seems like you are never going to get there," she said. "But Cehring said it would take one hour to get to the summit and it took exactly one hour. He knew exactly what to do."
"It was one slow step at a time," added Brooke Metzler, 12, whose father Nick Metzler joined them on the hike.
"When I got down, my lungs hurt a little bit, but it was fun," Brooke said.
Tredway said the annual trip typically involves spending a few nights in the woods and bagging more than one peak, but due to inclement weather, the trip was shortened to one night.
Linnea said one peak per weekend was enough for her. The Florida native admitted hiking was rare in the hot, humid Florida summers, but she was glad she made a fourteener this year before the snow fell.
"I have never done anything like this before, but I had so much fun and I'm glad I'm getting some hiking experience," Linnea said.
"I've done a couple of hikes, but I've never done a fourteener and that sounded like a lot of fun because I like to climb," Brooke said.
Tredway said the school's program exposes students to outdoor activities such as ice climbing, rock climbing, kayaking and mountain biking. Due to funding, Tredway said only 10 of 30 students who applied for the trip were chosen. The decision was made by selecting names from a hat.
"If it was up to me, I'd have every middle school student out there who wanted to go," he said.
The trip was funded through an annual tree sale in the spring that pays for the entire EOS program.
"We don't want to charge kids because we don't want money to be the thing that prevents kids from doing cool stuff," Tredway said.