Police investigate high school bomb threat
All Routt County high schools notified of ambiguous call
Friday, September 28, 2007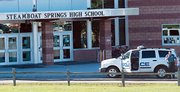 Steamboat Springs — Steamboat Springs police are investigating a high school bomb threat that was called in to Routt County Communications on Thursday morning.
Police Capt. Joel Rae would not confirm where the call came from. However, emergency scanner dispatches indicate that the call was made from a pay phone at the concession stand at Howelsen Hill.
The caller did not identify a particular high school when making the threat, Rae said.
As a result, all Routt County high schools were made aware of it.
After considering several options, Steamboat police and Steamboat Springs School District officials elected not to evacuate Steamboat Springs High School. Rae said the high school campus was searched, and nothing was found. Police also responded to the area where the bomb threat was made, he said.
Anne Muhme, the district's assistant to the superintendent, said classes continued as usual Thursday.
South Routt School District officials and an Oak Creek police officer searched Soroco High School during a fire drill Thursday morning and reviewed school surveillance tapes for any suspicious activity. After finding nothing, classes resumed.
Hayden officials could not be reached for comment Thursday afternoon.
Making a fraudulent bomb threat is a Class 6 felony punishable by as long as 1 1/2 years in prison and a $100,000 fine.
"It is obviously a serious crime," he said. "It's something we take very serious and will continue to investigate."
Police are pursuing several leads, Rae said. No arrests were made as of Thursday afternoon.
Rae said additional police officers were at Steamboat Spr-ings High School on Thursday and are expected to patrol the school today.
Rae said the police department always takes bomb threats - and any threat to harm others - seriously.
"Parents are always concerned for the safety of their kids," he said. "When this happened, it makes you angry that people go to these measures to be a comedian."
- To reach Alexis DeLaCruz, call 871-4234
or e-mail adelacruz@steamboatpilot.com