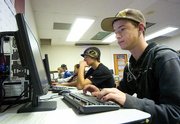 Steamboat Springs — The Hayden and South Routt school districts each have only one contested school board race in this fall's election, despite a total of seven open seats.
In Hayden, Sharon Nereson is challenging incumbent Troy Wertenberger, who is seeking a third term in District D. Wertenberger, secretary of the Hayden School Board, was first elected in November 1999. In South Routt, Phippsburg business owner Julius Palyo is challenging District 4 board member Linda Long, who was first elected to the South Routt School Board in November 1995.
One of the Hayden seats is not only open, but also currently without a candidate.
Jody Camilletti, who represents District B in Hayden, will not run for re-election and no challenger has stepped forward to replace her. Superintendent Mike Luppes said the Hayden School Board will advertise for the position and appoint a replacement.
"I wish we could take care of it in the election," Luppes said. "Hopefully someone will step forward soon. : Whoever they appoint will be up for election (in 2008)."
The Hayden School District does not have any initiatives on the November ballot, but the South Routt School District is asking voters to approve two ballot questions.
In July, the district received a $1.57 million capital construction grant from the Colorado Department of Education, to help fund new boilers at Soroco High School, Soroco Middle School and South Routt Elementary School in Yampa. The grant is contingent upon the district raising an additional $1.57 million in matching funds, which would be raised through the purchase of bonds.
If voters approve the bonds, Superintendent Kelly Reed said work would begin in the spring and be finished before the 2008-09 school year.
The district is also asking South Routt voters to approve a mill levy override of three mills - a property tax increase above what state regulations allow - to generate an additional $360,000 per year.
Reed noted that the net mill increase would be one mill - or a tax of $1 per every $1,000 of assessed value - if voters also approve the bond purchase to replace the boilers.
Five of the seven South Routt School Board seats are open, and like Hayden, the district also has a seat that is currently without a candidate.
Reed said no one filed for the District 1 seat. School Board President Tim Corrigan will appoint someone to fill the position. Corrigan is running unopposed in District 6. District 7 board member Rodney Wilson and District 5 board member Joel Harris are also running unopposed.
- To reach Mike McCollum, call 871-4208
or e-mail mmccollum@steamboatpilot.com