New grass
Head for the Hills mixes improv and tradition
Friday, September 28, 2007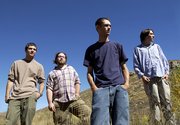 Key points
¤ Head for the Hills
¤ Last-minute cancellation; DJ vonFunk will play instead at 10 p.m. Saturday
¤ Mahogany Ridge Brewery and Grill
¤ Free
¤ 879-3773
¤ Recommended listening: Tony Rice, Old & In the Way, Miles Davis, David Bromberg, Paul Simon
Steamboat Springs — Adam Kinghorn, who plays guitar and banjo for the progressive bluegrass band Head for the Hills, is quick to point out geographic differences.
Mostly, that the kind of bluegrass you run across in Colorado is different from the Appalachian sort that gave the style its name - it crosses genres and carries the kind of youthful zeal that has made acoustic music appeal to college crowds.
On Saturday, the Fort Collins-based four-piece will play Mahogany Ridge. Coming off a busy summer tour season, a first album ("Robber's Roost") and four years of playing together around Colorado State University, Kinghorn spoke to 4 Points about Rocky Mountain bluegrass, and how it isn't Bill Monroe.
4 Points: How does your band's style differ from traditional bluegrass?
Adam: We have bluegrass instruments, but we don't play a whole lot of traditional bluegrass. We write a lot of our own songs. Sometimes I wonder if we should even be called a bluegrass band.
4 Points: OK, so I'm from North Carolina. When I think about bluegrass, I think about Doc Watson. How is bluegrass here different?
Adam: Colorado bluegrass in my mind is more up and coming. It spans bands like Yonder Mountain (String Band) that definitely are defining a sound that's not the same as traditional Southern bluegrass.
The role of all the instruments is different.
For example, mandolin playing in traditional bluegrass music is supposed to sound like Bill Monroe, and our mandolin player Mike (Chappell) plays differently than that.
The same goes with all the instruments. With traditional bluegrass the guitar player would never really take a break like Doc Watson would, the role would be to just kind of strum and sing pretty.
I'd say that it's progressing and hopefully in a great way. But I think there's a lot of merit in being able to play traditional bluegrass.
4 Points: If bluegrass is progressing, where is it going?
Adam: OK, like the mandolin example from before. The Bill Monroe style was very recognizable and for folks in those bands that's how you play the mandolin - it's religious almost.
It's neat to step away from that in certain points, and I think that allows you to experience more and, in a sense, use that bluegrass style as a way to take you to other styles of music. People like Chris Thile and David Grisman have done that.
If you asked them to, they could play exactly like Bill Monroe, but that's not something you want to do with every song.
4 Points: What other styles of music does that take you to?
Adam: I don't think we feel restricted to play any certain style, we're all very willing to play whatever we're feeling and whatever comes to us in the moment.
Our fiddle player (Joe Lessard) was a classically trained violin player for most of his life, so the stuff he writes as fiddle tunes embodies a little more classical sound. There's a funkiness to our rhythm playing, because our bass player (Matt Loewen) - what's the best way to say this? - can play some drop the funk and get into a groove.
When somebody writes a new song, it just kind of unfolds that way, and I don't think any of us tries to sound a certain way.