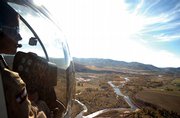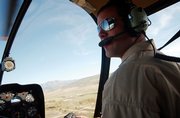 Steamboat Springs — At 1,500 feet above Steamboat Springs on Thursday, helicopter flight instructor Drew Mitchell treated his passengers to a deluxe tour of fall colors.
"It's much more interesting than coming in over Steamboat at 30,000 feet," said Mitchell, who provided helicopter rides courtesy of Colorado North-western Community College to drum up support for the school's new helicopter aviation program.
"At that height, you are looking down at ants," he said. "With a helicopter, you are more integrated with your surroundings."
The college partnered with Premier Helicopters of Broomfield to start the program in August at the Rangely Airport. The school has operated a fixed-wing program at Rangely for 45 years. Flight classes are also available at Yampa Valley Regional Airport in Hayden.
"It's slow going at first for the students - there is a lot to learn, a lot of studying and knowledge to know," said Mitchell, who gave five flights Thursday to people curious about the program, for up to $350 per hour.
"It was mostly just people who have never been in a helicopter before and just wanted to go for a ride," he said. "One guy's dream was to fly a helicopter for fun, but he wanted to go up, so his wife bought him an hour and then we flew around to their house and landed, then came back here."
Mitchell, who has nearly three years of helicopter aviation experience including more than 600 hours in the air, said careers for helicopter pilots include ferrying supplies to oil rigs in the Gulf of Mexico, to medical evacuations and tourism.
David Cole, director of the college's aviation technology program, said students can earn an associate degree in two years, after which they are qualified to fly helicopters for a living.
"You go through all the helicopter training, including the private, instrument, commercial, flight instructor and instrument rating," said Cole, who noted students may spend up to $80,000 to become commercially licensed.
"For the whole two-year program, they are going to have to accumulate 200 hours of flight time," he said. "For the first 50 to 100 hours of flight time, they are going to spend just as much time in the classroom and studying, just to get up on the knowledge."
Mitchell said the Federal Aviation Administration requires a written knowledge test and a practical aviation for each certification rating.
"It's really satisfying as an instructor when someone goes from being scared to take off, to being a proficient pilot," he said. "The book work isn't so hard, but nobody wants to do it. It's the actual flying that can be challenging."
Mitchell said the toughest skill to learn as a helicopter pilot is hovering.
"It's hard as hell," he said.
For more information on aviation technology at Colorado Northwestern Community Col-lege, call (800) 562-1105.
- To reach Mike McCollum, call 871-4208
or e-mail mmccollum@steamboatpilot.com