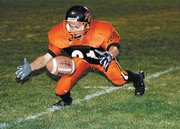 Steamboat Springs — These are the types of games that will show Hayden High School football coach Shawn Baumgartner how good his team really is.
After much ballyhoo heading into the season, the Tigers dropped their first league game and now find themselves in an uphill battle for the playoffs.
After a 6-3 win against Paonia last week, Hayden (3-1 overall, 1-1 in league play) is now preparing to face Dolores, the top team in the Southern Peaks League, at 1 p.m. Saturday in Olathe.
The teams are playing in Olathe to cut down the drive time for both schools.
In Dolores, it's no secret what Hayden's up against.
The Bears have a big offensive line, fast running backs and a bruising fullback, creating an offensive juggernaut that has put up 160 points in the past three weeks.
"Dolores is the biggest team we've seen on both sides of the ball all year," Baumgartner said. "We absolutely have to make sure everybody is in the right spot."
Last year against Dolores, playing at Palisade High School, Hayden turned in a character- and season-defining performance.
Outweighed at every position across the offensive line by at least 40 pounds, Hayden dominated the line of scrimmage by holding the ball for 30 of the last 36 minutes of play in a win.
"Our kids came out real physical" last year, Baumgartner said. "We had two long third-quarter drives that led to touchdowns. It's the same thing we have to do this year. We may not be as big, but we have to work at being more physical."
While the offensive line for Hayden has shown the physical nature that led the Tigers last year, Baumgartner said he's still looking for the killer instinct needed to finish drives.
Through two league games, Hayden has had drives inside the opponents' 10-yard line stall three times.
"We have done some of that work inside the red zone," Baumgartner said. "Again, we just focused on knowing our assignments and making sure we're physical and aggressive, because you can't take that for granted."
While a win Saturday isn't absolutely necessary to make the playoffs, Baumgartner said it sure would provide a boost with four league games left to close out the regular season.
"This is a real big game for us. This is a real good non-conference team in our class," Baumgartner said. "Hopefully we're able to make some comparisons to where we stand against other leagues. It's a good caliber of team to judge where we are."