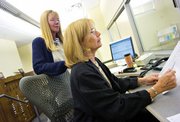 Steamboat Springs — Moving to the new Routt County Justice Center was just what the court system needed to expand its hours.
14th Judicial District Administrator Evan Herman said Thursday that operations of the Routt County Combined Courts would expand to 8 a.m. to 5 p.m. Monday through Friday beginning next week, giving the public an extra hour to access the court's clerks. The clerk's office is closed from noon to 1 p.m. for lunch. The office also will close once a month at 4 p.m. for staff meetings, and that date will be posted in advance, he said.
"Providing the best service to the public has always been a priority for us," he said. "Now that we've moved to the new Justice Center, we were able to hire new people because we have room now."
The clerk's office has closed daily at 4 p.m. for several years as a result of budget and staffing cuts, he said.
Despite receiving more state funding to hire new positions this summer, there was not enough room for more personnel to work at the Routt County Courthouse, he said.
Herman said working in the new Justice Center has been a delight, even though the building is a work in progress.
"Overall the building is great. We love it," he said. "Anytime you move into a new facility, whether it be a new home or building, there's always going to be those glitches and issues you deal with here and there. We're going through a normal process."
Tim Winter, the county's building and plant director, said workers are still trying to finish the Justice Center's security system. Security work on doors, the underground tunnel and cameras is ongoing, he said.
"We expect it all to be fully functional in the next week or two," he said.
There are currently two armed Routt County Sheriff's Office detention deputies and a metal detector at a temporary "security entrance" that screen people as they come in and out of the building, he said.
Wednesday was the first time Routt County Jail inmates were taken through the tunnel and up an elevator into the Justice Center, despite not having final approval from inspectors, Winter said.
Sheriff Gary Wall, who was at the Justice Center on Tuesday and Wednesday, said the system worked fine.
Wall said he is concerned about the current level of security at the Justice Center, but that his office is responding accordingly.
"Everyone is aware of the situation, and we're being extremely careful," he said Thursday. "I don't think people should be concerned, but they should be aware that all the systems aren't up and running 100 percent."
County Commissioner Nancy Stahoviak said that despite the security glitches, the Justice Center is safer than the Routt County Courthouse.
"The bottom line is that the Justice Center, even as it is operating with the glitches, is more secure than it ever was over" at the old courthouse, she said.
Other minor glitches included phone problems with the Sheriff's Office, Routt County Jail and the District Attorney's Office, Winter said.
The phone system was fixed Wednesday, he said.
"I have my fingers crossed," he said. "I haven't heard any complaints (Thursday). I think we're out of the woods on that."
In addition to finalizing the security system and getting final approval for use on the elevators, there is still aesthetic work being completed, including woodwork and trim work in the main lobby, he said.
"Like any building start up, we've had some issues that we're addressing," he said. "Almost every day we find something that isn't working quite the way we want it to."
The courts have been operating daily since Sept. 17.
- To reach Alexis DeLaCruz, call 871-4234
or e-mail adelacruz@steamboatpilot.com