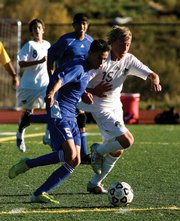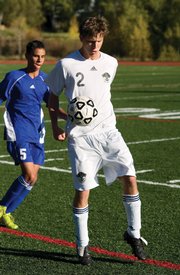 Steamboat Springs — Moffat County had plenty of momentum but was short on the breaks.
The Bulldogs boys soccer team rolled into Steamboat Springs on Tuesday having won a pair of Western Slope League games and lost a close contest to league-leading Battle Mountain.
But two Moffat County red-card infractions to start the second half gave the Steamboat offense - primed from a breakthrough 8-0 victory against Palisade on Saturday - all the room it needed to turn a fairly close 2-0 game into another lopsided, shutout win. With the two-man advantage, Steamboat tacked on four more goals to win 6-0.
Steamboat coach Rob Bohlmann called the win a catch-22. He was pleased to have Steamboat earn the three points in the league standings, but he thought the offense lacked in terms of composure and execution, moving the ball into the attacking third of the field.
"Once we started getting our combination play up top - the one-twos and the overlaps - things started coming together," Daniel Wright, who scored two goals for the Sailors, said of the latent offense.
While the Sailors controlled and moved the ball well in a slow first half, they struggled to create shots in the Bulldogs' defensive zone. Moffat County fullback Jose Valdez made a habit of breaking up Steamboat attacks that sputtered at the top of the penalty box.
"We came out with some really strong D and those guys hustled like crazy," Moffat County coach Seth Young said.
Steamboat's Andrew White gift-wrapped a perfect cross to Blake Eddington 10 minutes in, but Moffat County freshman goalkeeper Victor Villa came up with a big point-blank save.
When Josh Fix sent a corner kick to the far side of the Bulldog's goal box 10 minutes later, Villa (who finished with three saves) could not repeat. Kevin Bertrand redirected the pass with a header to put Steamboat up, 1-0.
Steamboat continued the pressure in the second half. Five minutes in, Danilo Farias poked the ball through to Wright, who nailed the shot in off the top crossbar.
Shortly after, a collision between Moffat County captain Tucker Bilodeau and Fix resulted in red card ejections for both Bilodeau and Moffat junior Ian Forgay.
"We both went up, and the ref thought I had my elbow in front," Bilodeau said. "I thought Steamboat didn't really bring anything at all, it's just that with the red card, being two guys down, is tough. And we just weren't playing like we should have, passing and shooting like we normally do."
Wright converted the ensuing penalty kick. With Moffat only fielding nine players, Steamboat got plenty of open looks at the cage. Bertrand placed a high shot past Villa to go up 4-0.
But Moffat County (2-4 in league, 2-6 overall) kept trapping the Steamboat offense offside and generated a few looks of their own on goal. Farias responded in goal with three second-half saves. In the waning minutes of the game, Sean Hurst scored on a breakaway and Timmy Rabbitt converted on a pass from White to end the game, 6-0.
Steamboat (3-3-1 in league, 3-5-1 overall) hosts Glenwood Springs at 11 a.m. Saturday.
"I can tell you right now, we'll come out hard," Wright said.