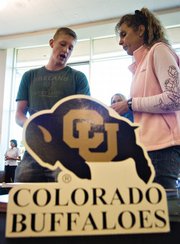 Steamboat Springs — Gayle Dudley is quick to remind Steamboat Springs High School students that college isn't a prize to be won, but a match to be made.
"The biggest thing is to match a college with a student's learning style," said Dudley, the school's career and college adviser.
"They need to ask themselves, what do they need to be successful - not a college with a big name - but where they can succeed," she said.
Dudley presented a "College Application Process" lecture Tuesday to about 20 juniors and seniors. The discussion included tips on filling out college applications.
A previous lecture touched on narrowing down college choices to about six schools. As early admissions deadlines for colleges near, Dudley said students already should have a grasp on prospective schools. The next step is applying.
"Your senior year isn't going to get any easier," she said. "There are things you should get a leg up on."
Senior Lyssa Walter, 17, said she wants to go to a small school, such as Western Washington University, and major in early child elementary education.
"The application process is really crazy," she said. "You may know where you want to go, but you may not know what exactly they want."
Dudley walked students through various university Web sites, demonstrating how to apply online for college, arrange for financial aid and even how to find a dorm. She said the days of paper applications and in-person campus visits are not yet things of the past, but embracing the Web in the application process is important.
"Every college I've talked to prefers computer applications," she said. "It's faster, neater and with fewer errors."
Senior Alexis Lezin, 18, was accepted to the Brooks Institute, a California-based photography school, but she said her stress level remains high because the acceptance is conditional on her senior-year performance.
"Now I just have to keep it up," she said. "But I keep in touch with my school through a college rep, and I know what's expected."
Dudley said the most important thing to remember in the college process is to keep things personal.
"In regards to essays, whatever you write about, make sure it is something important to you," she said. "What do you really like in class? What do you like outside of school? These are things you need to be addressing in this process because it's really all about you."
- To reach Mike McCollum, call 871-4208
or e-mail mmccollum@steamboatpilot.com