Haven groundbreaking nears
Fall date possible for community center addition to home
Wednesday, September 26, 2007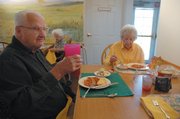 Hayden — Much-anticipated plans to add a community center to The Haven Assisted Living Center in Hayden could move closer to fruition this fall as the owners seek qualified contractors to bid on the project.
The nonprofit Northwest Colorado Visiting Nurse Assoc-iation purchased The Haven for $450,00 in fall 2005. Last year the VNA announced plans to add 7,000 square feet to the building and broaden its programs for the elderly.
VNA Executive Director Sue Birch said her organization has secured $1.5 million for the project and will launch a final fundraising campaign when the final bid is awarded.
"We're a go for an exciting project," Birch said. "We do not have all of the funds in place, but we have the bulk of it."
The VNA has formally invited general contractors to submit prequalification statements preparatory to submitting bids.
The VNA's Donna Hackley said Monday her organization is still intending to break ground this year. She is the program evaluation and special projects coordinator for the VNA.
"We've prepared a packet that contains a schedule," Hackley said. "We hope to identify three to five qualified contractors who would submit bids."
The qualification documents call for completion of the addition in late 2008, Hackley said. The project entails adding 2,000 square feet to the existing kitchen and dining facilities of the 20-bed extended care facility, plus a 5,000-square-foot community center. The intent is to welcome all Hayden and area residents to the community center. The center is also meant to give the VNA the flexibility needed to establish "Aging Well" programs for people who don't necessarily live at The Haven.
"We feel strongly that it should be an intergenerational facility," Dace Kramer, Aging Well coordinator for the VNA, has said previously.
Tentative plans for the community center include a physical therapy office, an exercise room available to the public and an Internet cafe.
Architect Ron Szerlong said he designed an outdoor plaza to extend the usefulness of the addition.
- To reach Tom Ross, call 871-4205
or e-mail tross@steamboatpilot.com