City Council to talk about transportation issues
Tuesday, September 25, 2007
Agenda
4 p.m. Council convenes as the Steamboat Springs Redevelopment Authority to discuss base area development
5:30 p.m. Roll call; review of mobility and transportation including consideration of bypass options
7 p.m. Public comment; second reading of an ordinance amending the municipal code
If you go
What: Steamboat Springs City Council meeting
When: 4 p.m. today
Where: Centennial Hall, 124 10th St.
Call: City offices at 870-2060 for more information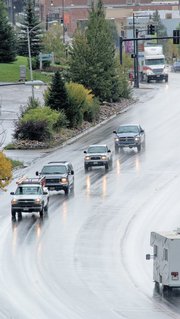 Steamboat Springs — Spurred by the increase of downtown traffic congestion this summer and the imminent development of west Steamboat, the Steamboat Springs City Council will discuss transportation issues tonight, including alternatives for a bypass through the city.
Planning Director Tom Leeson will give a presentation reviewing studies that have been conducted and discussions that have been held in the past, summarize existing plans and explore the city's next steps. Tonight's meeting primarily will serve as an opportunity to educate council members about the issue, but action might not be far behind.
"We're at capacity, and you know you're about to annex a major growth area," said Councilman Towny Anderson, referring to the planned development and annexation of 700 acres west of Steamboat. "I would say it's a priority to increase (vehicle) capacity."
Steamboat 700 developers have preliminary plans to build about 2,000 homes on the west side of the city. Councilman Loui Antonucci agreed that the massive development is one reason transportation and bypass discussions again have found themselves in front of City Council.
"That's probably the impetus that brought it back to the forefront," he said.
Antonucci and Anderson agreed there are significant hurdles to a project such as a bypass. Both acknowledge that the cost of such a project could not be funded by the city or the Colorado Department of Transportation. Also, all bypass alternatives - such as building a road over the top of Howelsen Hill - are sure to have passionate opponents.
"There's no great solution," Antonucci said. "I look at all of those (bypass alternatives), and I don't like any of them."
Anderson said the issue would come down to political will and the sacrifices the community is willing to make to improve transportation. But whatever the outcome, he said something has to be done.
"With west Steamboat and the anticipated growth, we've got a challenge - a huge challenge," Anderson said. "We have to increase capacity; that's the bottom line."
Also Tuesday, council will consider the second reading of an ordinance amending various aspects of the municipal code. At 4 p.m., before its regular meeting, the council will convene as the Steamboat Springs Redevelopment Authority to discuss redevelopment at the base of the Steamboat Ski Area. That meeting will focus primarily on a discussion of vision, goals and needs for vehicle and pedestrian mobility around the base area.
That discussion will include a consultant's presentation of a mobility scheme. An open house for the mobility and transportation presentation precedes the meeting at 3 p.m.