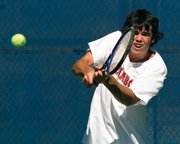 Steamboat Springs — Nobody would have blamed Jack and Keegan Burger if they had lost against Evergreen in the deciding tennis match Saturday.
After all, the twins are just freshmen and Jack pulled double-duty for the Sailors, running cross-country in the morning before showing up just before the match started.
Add to that, the two transferred from Evergreen last year and had to play their former classmates, and a loss wouldn't have seemed unreasonable.
But after dropping the first game - and adding pressure in the process - the Sailors' No. 2 doubles team showed something Steamboat coach John Aragon has been looking for all year.
Before a large crowd, the Burger's battled back, winning the second two sets to give the Steamboat Springs Sailors a 4-3 win.
"I like it like that," Keegan said. "I play better that way. We play better when there's more pressure."
After the twins lost the first set, 6-3, they narrowly escaped the second with a 7-5 win. In the third set, however, the two returned to their normal form and easily put away Evergreen's Peter Hassinger and Sam, Dekoven 6-1.
"I just like it when there's pressure. You focus more," Jack said. "We're way more focused when we're under pressure."
The Burger's play at No. 2 doubles highlighted a great day for the Steamboat Springs doubles teams.
Playing without No. 1 player Ramsey Bernard who was visiting a college, the three Steamboat singles players all lost their matches - the toughest of which was Jeff Lambart's three-set, tiebreaker loss at No. 3 singles.
In the third set, Lambart battled back from 5-3 down and pushed the set into a tiebreaker. After falling behind, 5-3, in the tiebreaker, Lambart tied the match up at 5, before Evergreen's Kurt Dieter notched the last two points for the victory.
"I had my chances to win for sure. It could have gone either way," Lambart said. "Tennis goes back-and-forth and you always got to stay with it. You always have to think you can win no matter what the score is."
While the singles players struggled, for the first time this year, Steamboat's doubles teams all pulled through with wins.
It's something Aragon said is necessary as the team marches toward trying to win its 10th consecutive regional title.
"These are the kind of matches we need to have," Aragon said. "There was a lot of pressure and a lot of people watching. It was the first time this year where the doubles swept. So it was great they came through."
Steamboat next plays Friday at Aspen before concluding the regular season at 2 p.m. at home Saturday against Kent Denver.
- To reach Luke Graham, call 871-4229
or e-mail lgraham@steamboatpilot.com