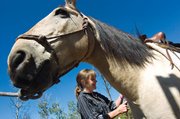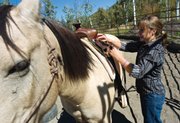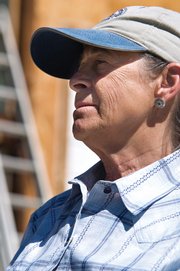 Overview of elements
Element I - Management: housing horses, fencing methods, basic feed and water needs, basic equine anatomy, recognizing common illnesses, proactive health care, dogs in the environment
Element II - Handling: owner behavior keys, haltering methods, leading, trailer loading, tying knots
Element III - Daily care and first aid: grooming, cleaning the hooves, bathing, basic first aid examination, polo and bandage wrapping
Element IV - Tacking up: Western and English saddles, cleaning and storing saddles, bridles and reins, putting on and adjusting the saddle, unbridling and unsaddling
If you go
What: Horsemanship Fundamentals workshop
When: 9 a.m. to 3 p.m. Sept. 28 to 30 and Oct. 19 to 21
Where: Moonhill Schoolhouse Community Center, mile marker 13 on Routt County Road 129
Cost: Elements I through IV are $600 for three days; Element V riding lesson is $100
Call: 846-9626 or visit www.horsemanshipf...
Steamboat Springs — There are plenty of places to learn how to ride a horse. Dee Graves' workshop, "Horsemanship Fundamentals - Five Elements," isn't one of them.
"I'm not training people to be great riders. I'm not training people to have great horses. I'm training people to take care of their horses so that the horse won't get hurt and they won't get hurt," Graves said.
The three-day course is geared to those who own horses or are thinking of buying one. Instead of training students to ride, Graves teaches them the basics of housing and fencing, nutrition and healthcare, grooming and bandaging, saddling and tacking in the first four elements. The fifth element is an optional private riding lesson.
"It's been my experience where people will get a horse for the first time and they'll take lessons at the stable, and the horse has already been tacked and saddled and someone helps them get on it," Graves said. "They never get to know what's happened to get the horse to that point.
"It's not like getting a dog, where you can ask anyone on the street what to do with it," she said, admitting that you might have better luck asking people on a street in Routt County how to take care of a horse than elsewhere.
By getting the basic feel of working with a horse, Graves' students get a feel of what it's like to have one of their own.
"What's great about the course is that you get to try it before you buy it," Graves said.
Cheron Ferland, a wildlife biologist for the U.S. Forest Service, took the course to learn how to care for the four horses the Forest Service uses to check on trails and range.
"The nice thing about the class, to me, is that it's a whole-horse class. There's a lot of dimensions that make the class," Ferland said.
"I think it can be good for pretty much anyone who has a horse. Even if you've had a horse for a really long time, there are still things you can learn."
So far, three students have completed the workshop, which Graves - who moved to north Routt County in 2005 - devised about eight months ago. There are two workshops left this fall and 20 potential sessions set up for spring 2008.
"I was sitting around trying to figure out what it is that I can do with horses that I can share and get paid for," Graves said. She didn't see anyone else doing a workshop like the one she designed, so Graves decided to put her strengths to work.
"I'm not what you would call a gifted rider or a gifted trainer, but I am a gifted manager," she said.
Graves said her mother insists the seed for her love of horses was sown when, as a 4-year-old, she went on a one-block pony ride through the Lower East Side of Manhattan.
But Graves, who grew up a few minutes away from NYU, said her passion was cemented on a trip to Connecticut when she was about 10 years old. Her father knew she loved horses and arranged for her to go on a ride with some family friends.
Being from the East Village, Graves didn't exactly have proper riding clothes, and when she fell off the horse and into a patch of poison ivy on a trail, her shorts and halter top didn't do much to protect her. While she was recovering, her father read her Will James' "Smoky, the Cow Horse."
"I think in my delirium, I decided I was a cowgirl. Then I started reading all these Will James books, and I became hooked on the West."
When she was 16, Graves joined the Ringling Bros. and Barnum & Bailey Circus as a resinback rider. Horses have been a part of her life ever since.
"My professional career started when I was 16, and I'm getting my first Social Security check in a week, so you do the math," Graves said.
"I've done a lot of other things, but horses have always been my center."