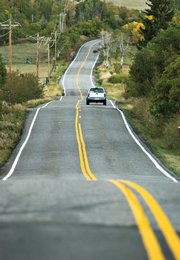 Steamboat Springs — A small 2007 ballot will be loaded with various tax-increase questions, with several government entities claiming a state statute limiting the growth of property taxes has prevented them from keeping up with costs.
Five entities will have tax-increase questions on this election's ballot. Some request the entities be allowed to "deBruce," referring to TABOR author Doug Bruce and to ballot questions that ask voters whether government can keep or use all or part of the revenue collected in excess of the TABOR limit.
Some fear exempting government from the statute while the county's property prices are rapidly rising could have the effect of pricing people out of their homes.
"Any deBrucing question is problematic in an area with rapidly rising property values," said City Councilman Paul Strong, who said he has personal concerns with a Routt County ballot question that will ask voters to allow county government to deBruce so it can fund improvements to 59 miles of county roads during the next six years.
While the increased funds are specified for road improvements during the next six years, the deBrucing would be permanent, and funds could be used for a multitude of other purposes in following years.
The county hopes to raise $3.3 million annually beginning in 2008. To raise that amount of money, the county commissioners are asking to be allowed to assess taxes at a rate of 12.266 mills. The commissioners point out that the proposed mill levy is actually a decrease from this year's mill levy of 12.420. However, it is a 32.9 percent hike from the 9.229 mill levy TABOR would require next year.
That increase would mean an additional $25 a year per $100,000 of estimated market value for residential taxpayers and an additional $88 a year per $100,000 of estimated market value for commercial taxpayers. Commercial property taxpayers take a much larger hit because the state property tax rate is 29 percent, compared to a 7.96 percent residential rate.
"It's going to hit commercial property-tax payers even harder," Strong said.
Other ballot questions
Government entities have claimed TABOR has had the effect of not only limiting revenue growth, but also effectively decreasing revenues because it doesn't allow them to keep up with rapidly rising costs.
North Routt Fire Protection District Chief Bob Reilley said that is why the district is asking for a mill levy increase and deBrucing.
Reilly said the district's increase, from 5.063 mills to 7.85 mills, would mean an additional $112 in property tax for the owner of a $500,000 home. He said the increased revenue would be used to train and recruit volunteers, as well as provide a funding source for the paid chief. Reilley said his salary currently is paid from the district's reserves, which are expected to run out in 2008 without a tax increase.
The South Routt School District has two tax questions on the ballot. One is a mill levy increase to help the district cover increasing operating expenses, and the other is a bond issue to replace the district's heating systems. If both measures pass, the average South Routt homeowner would see their property taxes increase $18.96, based on an estimated value of $236,554. A commercial property valued at $250,000 would see its property taxes rise $71.78.
The city of Steamboat Springs has its own tax increase questions on the ballot, with two questions that would fund the construction, operation and maintenance of a $34 million recreation center at Ski Town Fields. If passed, the two measures combined would cost Steamboat taxpayers up to $3.4 million in additional property taxes beginning next year - not including user fees - according to the ballot language passed by City Council. That increase would mean an additional $33 a year per $100,000 of estimated market value for residential taxpayers and an additional $121 a year per $100,000 of estimated market value for commercial taxpayers, according to calculations by Bob Litzau, the city's interim finance director.
Other items on this year's ballot include elections for school board candidates in all three of the county's school districts and an Eagle County school district that extends into part of extreme South Routt County. The town of Hayden has a "continuation of a use tax" question on the ballot, and the Hayden Cemetery District has a deBrucing question. Officials could not be reached to explain the details of these two questions.
Polling locations
County Clerk Kay Weinland said Routt County would return to precinct-specific polling locations this election. Last year, a botched attempt at using "voting centers" - which allow voters to vote at any center in the county, regardless of where they live - resulted in lines up to four hours long and landed the county on the Colorado Secretary of State's Election Watch List.
"We decided that voting centers weren't going to work for Routt County for the time being," Weinland said.
Weinland noted that while this year's ballot is small and includes no state questions, there are seven different ballot styles across the county, which makes it cost-prohibitive to have paper ballots of each different style available at every location.
A stand-alone, mail-in ballot will be used for a question to approve a property tax to fund the Downtown Steamboat Spring Business Improvement District. Property and business owners within the district's boundaries from Second to 13th streets, between Yampa and Oak streets, should contact Main Street Steamboat Springs Executive Director Tracy Barnett at 846-1800 for information on how to obtain a ballot.
- To reach Brandon Gee, call 871-4210
or e-mail bgee@steamboatpilot.com