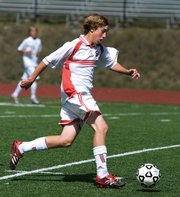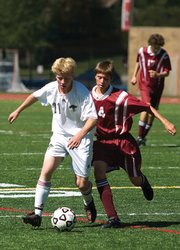 Steamboat Springs — The Steamboat Springs boys soccer team has had every game this season (except ones with Battle Mountain) decided by a single goal.
The Sailors finally opened the point-scoring floodgates Saturday at Gardner Field. They out-shot the Palisade Bulldogs, 28-6, in a definitive 8-0 victory.
"As a group, we settled in, accepted the pressure and had our first big offensive game," said Steamboat's Josh Fix.
Steamboat scored three minutes in on its first shot on goal. Kevin Bertrand nailed a ball from Michael Lyon from 25 yards out that one-hopped to the near post, past Palisade goalkeeper Rolando Vargus.
Blake Eddington, playing on the right flank of Steamboat's midfield, poked passes up the middle to connect with Steamboat forward Sean Hurst - a senior transfer student in his season debut - for the next two goals.
"We've been feeling it building since we hosted Battle Mountain," Steamboat coach Rob Bohlmann said of the offense that was ripe for Hurst's "attacking personality to send over the edge."
Palisade (0-5 in Western Slope League, 1-6 overall) finally got the Bulldogs' first crack on goal with 13 minutes to go in the first half with a shot from Brandon Bruton, but Fix answered right back with a goal on the Sailors' counterattack.
"I have a lot of new guys who haven't played that much," Palisade coach Drake Jandreau said. "I don't think we played that much better in the second half as much as (Steamboat) let up. These guys have so much to learn. Hopefully, we'll grow a little because we have so much room to."
Steamboat took three minutes and one shot to get on the scoreboard again in the second half as Fix found an open Ryan McConnell to go up 5-0.
Then, McConnell returned the favor and fed Daniel Wright at the top of the Palisade penalty box. Wright straight juked a pair of Palisade fullbacks to open up a clear shot on cage to put Steamboat up by six.
But the Palisade defense, anchored by Vargus, who had 10 saves, and sweeper Kyle Rasmussen, did what they could do deflect the constant Steamboat pressure in its zone.
Clancy Jandreau had two of the Bulldogs' best shots on goal with 13 minutes to play in the game, but Tony Rende and Timmy Rabbitt each added goals for Steamboat to seal the game.
Connor Birch and Danilo Farias each had two saves, splitting time in net for the Sailors' shutout.
Steamboat (2-3-1 in league, 2-5-1 overall) hosts Moffat County at 4 p.m. Tuesday.
- To reach Dave Shively, call 871-4253
or e-mail dshively@steamboatpilot.com