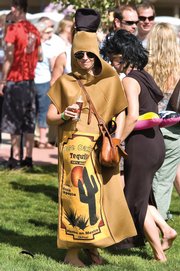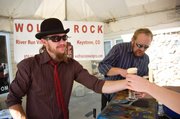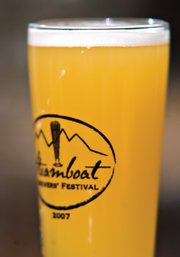 Steamboat Springs — For all good things in life - such as skiing, beer tasting, theme parties and Halloween - costumes make things that much sweeter.
For Boulder resident Catherine Yrisarri, it wouldn't have been right to attend a beer-tasting event at the base of Steamboat Ski Area sans costume.
"This came from a trash bag in my friend's house - we like to ski in costume, so there's always plenty to go around," she said Saturday of the full-length Jose Cuervo tequila bottle costume she was wearing.
Yrisarri and a group of her Steamboat Springs friends dressed in cutoff jeans and trucker hats were some of the 800 people who attended the inaugural Steamboat Brewers' Festival at Torian Plum Plaza.
Event organizer Jody Anagnos said the
event, which reinvented past beer festivals in Steamboat, featured 14 Colorado breweries and a live band. A free root beer float bar was popular with children and added to the family-friendly atmosphere she was trying to create, Anagnos said.
"Looking around, this is what I was hoping for," she said. "This is my vision in reality."
Anagnos, of Blue Dog Events, organized the event to be less of a "guzzlefest" and more of a sophisticated, low-key, beer-tasting event.
In a sense, it was the kind of event Anagnos would attend.
"I love beer, and I love events. That's my thing," she said. "This is the sort of event that I myself would want to attend. That's what it was all about - bringing back the locals that stopped attending other beer festivals."
A warm, sunny day added to the laidback atmosphere, she said.
"It really set the tone," she said. "If you walk around, you see people on the lawn, in chairs, just hanging out on the grass. It keeps things mellow."
Rachael Tremaine of Denver's Flying Dog Brewery agreed.
"I love coming to Steamboat because it's off the beaten path," she said. "It's a smaller, more quaint, more personable festival."
Two beers were flowing out of Flying Dog taps Saturday - its In-Heat Wheat Hefeweizen and Doggie Style Classic Pale Ale, both crowd pleasers, she said.
"We like coming to these events to get our beer in people's mouths," she said. "Especially in Colorado. This is our backyard."
Yrisarri said she was surprised Saturday's beer tasting was so under control, although she didn't mind.
"It's all about the people anyway," she said. "I've been having a great time. There's nothing like bluegrass and booze."
-To reach Alexis DeLaCruz, call 871-4234
or e-mail adelacruz@steamboatpilot.com