Routt County Spotlight: Kerry Hart
Sunday, September 23, 2007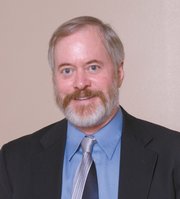 Steamboat Springs — Kerry Hart
Age: 55
Occupation: Dean of Colorado Mountain College's Alpine Campus
Place of birth: Los Angeles, Calif.
Q. When did you move to Routt County and what brought you here?
A. I moved to Routt County in March, 2006. I came because I was offered the dean position at Colorado Mountain College; however, I was raised in Colorado and it was also a good way to come back home.
Q. What's the biggest risk you've taken recently?
A. Making a commitment to go surfing and snorkeling with my youngest son who lives in Hawaii.
Q. Has a book ever changed your life? What was it and why?
A. Yes, "Gleanings from the Writings of Baha'u'llah." The beauty and power of the writings exerted a transforming power on my character and gave me insights and understanding into the evolution of civilization and why things are the way they are.
Q. What's the best piece of advice you've ever been given?
A. No one can take away your dignity except yourself.
Q. What three things would you want people to know about you?
A. (1) I will always do my best to fulfill commitments and promises; (2) I regard service to humanity as my greatest aspiration; and (3) I strive to let integrity and uprightness distinguish all my acts.
Q. If you could invite any four people to dinner, who would they be and what would you talk about?
A. Shoghi Effendi, Mahatma Ghandi, Socrates and Mark Twain. We would talk about the weather (environment), the economy and the future of civilization.
Q. In the Meatloaf song, "I'll do anything for love, but I won't do that," what is that?
A. Wash the windows.
Q. What was your first job?
A. A custodian at a doughnut shop when I was 15 years old.
Q. Who is your favorite superhero? Why?
A. Spiderman - he wears his physical, emotional and moral struggles on his sleeve - making it easy to identify with him.
Q. If you could go back in time, to what event or time period would you go?
A. Athens, Greece - approximately 460 B.C.
Favorites
Book: "Musical Anecdotes" by Norman Lebrecht
Song: "In the Kind Land" by Gordon Bok
Color: Blue
Food: Lasagna
Sport to watch: Football
Vacation spot: South San Juan Wilderness
Recreational activity: camping, canoeing
Movie: "House of Sand and Fog," by Andre Dubus
Magazine: Mad Magazine