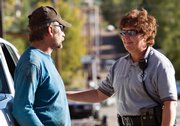 Oak Creek — The tragic events of Sept. 11, 2001, touched the hearts and lives of all Americans.
As people chose to handle that day - and the weeks, months and years that have followed - in different ways, some felt a calling and a need to do something more.
For New Jersey native Dr. Russell P. Caterinicchio, that calling was law enforcement.
Caterinicchio, who lost two high school friends when the World Trade Center Towers collapsed, abandoned his career in corporate America and traded teaching for a job as a security officer at Denver's Regis University.
That was more than 13 years ago.
On Wednesday, the Oak Creek Town Board unanimously agreed to hire Caterinicchio as the town's new police chief. Caterinicchio replaces former police chief Linda Koile, who left the department several months ago.
Building up the force
Police commissioner Chuck Wisecup said Caterinicchio was the only candidate of three who was interviewed for the position. A candidate from Arizona backed out of the hiring process, and a second candidate was not interviewed after he allegedly sent an inflammatory e-mail to town officials about the town's hiring process.
After meeting with the hiring board, which consisted of Wisecup, Mayor J. Elliott, police commissioner Dave Fisher, Oak Creek business owner Leonard Herzog, Steamboat Springs Police Chief Joel Rae, Hayden Police Chief Ray Birch and Undersheriff David Bustos, Wisecup said Caterinicchio was a shoo-in.
"This guy is ambitious, energetic and loves a challenge," Wisecup said Wednesday. "His extensive management background will get our police force back where we need."
In addition to Caterinicchio, Wisecup said he is hopeful the town will be able to hire another fulltime police officer and a part-time code enforcement officer after the budget process is complete early next year. Part-time officer Erik Foster, who lives in Clark and works at Routt County Communications, began working for the police department Wednesday. Police Officer Eileen Rossi has been the town's only officer since July and is leaving for the winter in the next few weeks. Hiring a police chief should lessen the number of calls the Routt County Sheriff's Office has been fielding lately, he added.
Wisecup said there was only one challenge to hiring Caterinicchio.
"The hardest part will be pronouncing his last name and getting it to fit on a business card," he said.
Caterinicchio agreed.
"People always ask me how I pronounce my name, and I say, 'with great difficulty,'" he said in a phone call from Florida. "I tell people not to feel bad because it took me until the eighth grade to learn to spell it."
'Not quite in the box'
Caterinicchio, who is living in Florida to care for his elderly mother, was introduced to law enforcement in 1994 at the Lone Tree Police Department when he was hired to set up the department's records division.
After working in Lone Tree, Caterinicchio said, he was "hooked." He graduated from the police academy in 2005 at the age of 57 and worked as a reserve officer for several years. He is Colorado POST certified.
Despite having little street experience as a cop, Caterinicchio is confident his managerial style and skills balance out his "meat and potatoes" grasp of law enforcement.
Caterinicchio received his bachelor's degree in liberal arts at New York University. He received his Master of Science degree in communication science and, later, a Ph. D. in communication rhetoric at Renssellaer Polytechnic Institute in Troy, N.Y. His primary career was in health care and policy analysis. He is an author and former educator.
"I'm not quite in the box," Caterinicchio said.
He said he applied for the Oak Creek police officer position first after finding out about an opening from a friend who lives in Steamboat Springs. After being encouraged by town staff, he applied for the town's chief of police position, not expecting to get hired.
"It's flattering," he said. "I'm very privileged and humbled."
Police philosophy
Caterinicchio's police philosophy is to work with the community and youth as much as possible. He also is being charged with modernizing the police department within reason, he said.
"The root word of 'police' is the Greek word, 'polis,' which means people. The theory behind community policing is involving your citizens as much as possible, because they are your eyes and ears," he said.
As a conservative Republican, Caterinicchio said he is traditional, old-fashioned and anti- "big, intrusive government." He hopes to prove himself to his new community, which he calls a "hamlet."
He said he is glad to be back in Colorado, and is excited to begin his new career in Oak Creek.
"At my age, less is more," he said with a vestige of an East coast accent. "I've had enough of New York and New Jersey and Denver, which is like a mini-Los Angeles now. This is my dream."
Caterinicchio also said he is taking his new role very seriously.
"A badge is not a symbol of power," he said. "It's a symbol of empowerment representing the public trust. That's what I believe in."
- To reach Alexis DeLaCruz, call 871-4234
or e-mail adelacruz@steamboatpilot.com