Hayden's defense leads to win against Paonia
Saturday, September 22, 2007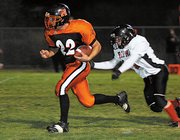 Hayden vs. Paonia
Paonia Hayden
9 First Downs 13
34-95 Rushes-Yards 44-229
10-22-0 Comp-Att-Int 3-6-0
132 Yards Passing 37
227 Total Yards 266
5-33 Punts-Avg. 3-34
2-1 Fumbles-lost 1-1
9-80 Penalties-Yards 3-45
SCORE BY QUARTERS
Paonia 00-03-00-00-3
Hayden 00-00-06-00-6
SCORING SUMMARY
First Quarter
None
Second Quarter
P 5:03, Lukas Wigins 31-yard field goal.
Third Quarter
H 5:46, Russell Waugh 17-yard run. (Kick fail.)
Fourth Quarter
None
INDIVIDUAL STATISTICS
Rushing
P: Jordan Van Vleet, 21-72; Josh Burns, 11-21; Taylor Bradford, 2-2.
H: Coy Letlow, 18-121; Aaron Haskins, 13-58; Mitch Doolin, 7-25; Waugh, 6-25. Passing
P: Bradford, 10-22-0, 132 yards.
H: Doolin, 3-5-0, 37 yards; Letlow, 0-1-0.
Receiving
P: Thomas Ford, 3-41; Van Vleet, 2-24; Curtis Bushta, 1-18; Mark Bejarano, 2-36; Danny Straub, 1-4; Burns, 1-9.
H: Sam Kopsa, 2-31; Haskins, 1-6.
Hayden — When the Hayden offense couldn't get it done, the Tigers' defense sure did.
In a game in which the score more closely resembled that of a baseball game - in fact, the Chicago Cubs outscored both teams Friday night - Hayden turned to an overwhelming defense in its 6-3 win against league opponent Paonia.
The Tigers limited the Eagles to 95 yards rushing - 58 of which came on fake punts - and allowed Paonia to enter inside the Hayden 20-yard once all night.
The lone drive Paonia strung together in the game - a 17-play jaunt that led to a 31-yard field goal by Lukas Wiggins - came when Hayden gave up a fake punt and had a penalty that continued the drive for Paonia.
"I think the guys enjoy (defense) more," Hayden linebacker Aaron Haskins said. "It's their time to get pissed off and go beat on somebody. We just wanted it bad enough."
Although the scoreboard didn't say it, the Hayden offense didn't play bad - the team rushed for 229 yards on the ground - but the team just couldn't capitalize on its opportunities.
Besides Russell Waugh's game-winning 17-yard touchdown run midway through the third quarter, the Tigers squandered opportunity after opportunity.
After the defense held Paonia on its first drive, Hayden's offense moved the ball and was left with a first-and-goal from the Paonia 4-yard line.
Three runs and an incomplete pass later, Hayden came up empty-handed.
Then, on the next Tigers possession, they moved the ball inside the Eagles' 10-yard line again.
This time, four runs produced the all too familiar result.
"We were able to move the ball on offense, we just didn't stick it in when we needed to in the first half," Hayden coach Shawn Baumgartner said. "I was pleased with our guys up front tonight. We fired out and hit them and were able to run the football.
"But, God, we drove all the way down to the six-inch line then the next drive drove inside the five and couldn't come away with points. We got better, but it's those little things and you can see them. So we'll just keep plugging away."
After going into halftime down 3-0, Hayden came out on its second drive of the night and took the lead for good.
A Paonia fumble gave Hayden good field position at its own 49-yard line. Eight plays later Waugh broke a run off the right side, changed direction and outran the Eagles to the left pylon to give the Tigers a 6-3 lead.
The win leaves Hayden at 3-1 overall and 1-1 in the league.
The team next plays at 1 p.m. Saturday in Olathe against a tough Dolores team.
Baumgartner said the nonleague opponent should give Hayden another tough test as the team marches forward in the league.
"As long as our defense keeps playing the way it did, our offense will come," he said. "One of these days, we're going to put it all together."