candidates
Candidates
n District 1 (four years): Susan Dellinger (incumbent, council president), Scott Myller
n District 2 (four years): Meg Page Bentley, Paul Hughes
n District 3 (two years): Vince Arroyo, Walter Magill
n District 3 (four years): Karen Post (incumbent), Jon Quinn
n At-large (two years): Towny Anderson (incumbent), Cari Hermacinski, Dave McClure
At a glance
What would be your No. 1 priority on City Council?
Susan Dellinger: The process. "We have to improve the process because I think it's going to benefit everything."
Scott Myller: Get the council to be citizen-run. "I believe the citizens want council to be run by business owners and regular people."
Meg Page Bentley: "Preservation of the spirit of our community through growth management. I want this town to go back to being the citizens' dream, not a developer's dream."
Paul Hughes: "I'd like to see council cut down on the things it tries to do. First of all, ask citizens what the most important issues are and work on those first."
Vince Arroyo: "Communication between citizens and government. As you saw with the historic preservation thing, there was not due process."
Walter Magill: "Streamlining the council, working on making the council more efficient. Council is a policy board and they should focus on making and applying policy."
Karen Post: absent
Jon Quinn: "Families come first. It's buoying the middle class. I think Steamboat is in a situation where there are more haves than have-nots."
Towny Anderson: "The biggest issue that's going to face the next council is west Steamboat annexation - far and away."
Cari Hermacinski: "The long-term livability of Steamboat. I believe the unique character of Steamboat is the people who live here year-round."
Dave McClure: "Education, that's what I really want to work on. I don't want education to be on the back burner."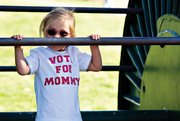 Steamboat Springs — For two hours Friday afternoon, the public had an opportunity to approach Steamboat Springs City Council candidates with concerns, ask candidates what they stood for or just enjoy some free Steamboat Smokehouse barbecue and root beer floats.
Although the turnout at West Lincoln Park was less than overwhelming, most counted the picnic as a success.
"We didn't have the crowd we hoped for, but there's a lot of good discussion going on," said Lynn Abbott, one of the organizers of the picnic, which was paid for by the candidates.
The picnic was the first of its kind and was designed to give voters an informal opportunity to interact with City Council candidates prior to the November election. The picnic was the idea of Council President Susan Dellinger, who said it would be a nice contrast to the more regimented traditional candidate forums.
Some people showed up just to hear what the candidates had to say, while others grilled them on specific issues such as historic preservation or a proposed recreation center, the funding of which will be a question for voters this November.
"Some people that I know, even, are coming out and busting my chops, which is good," said Cari Hermacinski, a candidate for the council's at-large seat.
Steamboat resident Susan Dreska said she came to the picnic hoping to learn more about the candidates.
"I'm concerned about the direction the City Council has been going the last few years," Dreska said.
Other visitors to the picnic, such as Don and Connie Livengood, were just hoping to put a face to the names they have read about in the newspaper. While the Livengoods, who said they "love to vote," were enjoying the picnic, others were disappointed by it.
"I'm actually more scared for my future," said Morgan Gale, a 19-year-old Colorado Mountain College student.
Gale said the candidates were overly political and unwilling to give him straight answers on issues such as pedestrian access. Gale attended the picnic with Japanese professor Dai Kato, who was also dissatisfied.
"If you have no comment, don't run," Kato said.
Upcoming forums and debates for City Council candidates are scheduled for Wednesday at 11:30 a.m. in the Routt County Courthouse Annex, Oct. 10, Oct. 15 and Oct. 23.
- To reach Brandon Gee, call 871-4210
or e-mail bgee@steamboatpilot.com