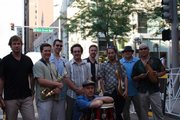 Past Event
Friday, September 21, 2007, 10 p.m.
Mahogany Ridge Brewery & Grill, 435 Lincoln Ave., Steamboat Springs
21+ / $5
Steamboat Springs — Mixing Latin rhythms with American song forms isn't anything new - Dizzy Gillespie and Chano Pozo did it popularly in the 1940s, and without that collaboration, Latin jazz might have come a lot later to the scene.
It's no surprise then, that bands like Boulder eight-piece ONDA are able to mix funky horn lines with Afro-Cuban rhythms, jammed-out concert sessions with world-worn grooves.
Performing music that's meant to be danced to - music whose instrumentation and rhythms don't leave much other choice - ONDA leadman and percussionist Robert Sequeira says the band, which will play at Mahogany Ridge tonight, has a "poppin', funky feel - a real Latin feel."
Sequeira talked to 4 Points about the reception his band usually gets in Steamboat and why every style ONDA plays fits together so well.
4 Points: How did ONDA get together?
Roberto Sequeira: I founded the group in 2000, and we kind of started on the Boulder scene playing at a place called Rhumba. It was just kind of a patio project that grew into a full gigging band, then developed into a heavy gigging band and an in-demand top-shelf festival act in Colorado.
4 Points: And you've said you're excited about coming back through Steamboat Springs?
RS: Weddings are what brings us to Steamboat every year, and we usually try to pair those with a club date. We've been back, I think it's our fourth year in a row - and every time, they turn out and pack Mahogany Ridge out. We keep seeing the same faces and get a warm reception.
A lot of Northwestern Slope towns don't get this kind of music.
4 Points: What kind of music is that, that towns in this area of the state don't get to hear?
RS: It's Afro-Cuban based, but we like to stretch out into all kinds of different fields from there. We definitely incorporate more funk, modern jam kind of grooves, really rocking modern arrangements.
It's a very unique experience, and definitely an interesting mix. It's Latin dance music - it has to swing, it has to be danceable.
4 Points: How do those things go together? It's Afro-Cuban based, and then you have it mixing with funk and rock.
RS: Afro-Cuban music was a natural partner for American jazz, which is how you have Latin jazz from Dizzy Gillespie and Chano Pozo. That was a long time ago, and what they found out was that jazz, a mostly American art form, fit in with Afro-Cuban because of the instrumentation and some of the rhythms.
And funk, if you listen to jùjð music from Nigeria, with all the rhythms and big horn lines - if you listen to that stuff, you're listening to James Brown, with that hard-hitting Afro beat and four-four feel.
I'm originally from Washington, D.C. and my dad is Latino, so the funk is in me.