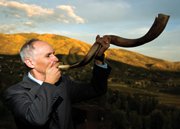 If you go
What: Har Mishpacha hosts Yom Kippur services
When: Kol Nidre service at 7 p.m. today; services at 10 a.m. to 4:30 p.m. Saturday; Break Fast dinner at 5:30 p.m. Saturday
Where: Church of Jesus Christ of Latter-day Saints
Cost: Free
Call: 879-2082
What to bring: For the Break Fast, last names A through J should take a main dish; K through R, a side dish; S through Z, a dessert
Steamboat Springs — Throughout the years, the Jewish community in Steamboat Springs has shifted from its role as a gathering place for the High Holy Days to a place for communal worship and learning.
For 24 hours, beginning today at sundown, that community - which is about 85 families strong - will observe Yom Kippur, a day of atonement.
Between Rosh Hashana, the Jewish New Year, and Yom Kippur, there are 10 days of contemplation.
"You use those days as a time for reflection on your life of the previous year and what you could do better," said Linda Liman, a member of Har Mishpacha (Hebrew for "mountain family"), the Jewish congregation in Steamboat Springs.
"Then when it comes to Yom Kippur, you recognize your shortcomings and ask for forgiveness," Liman said.
To serve as a reminder of that reflection, many people fast during those 24 hours.
"It's not like a period of accusing or pointing fingers, you just look inside yourself," said Paula Salky, who teaches Sunday school classes for Har Mishpacha.
Rabbi Joseph Goldman, who travels from Denver for holidays and once a month for Shabbat, said the theme of Yom Kippur is self-examination.
"The part of the tradition that I find most meaningful is that the idea of sin has to do with missing the mark. It's similar to a person shooting at a target with a bow and arrow," Goldman said. "The failure is that they're missing the mark, and you have the opportunity to practice during the year and do it better."
Goldman said the holiday is known as a period of fasting, but that intense self-reflection makes it a time of awe. It also is a time to remember those who have died.
"If it's done seriously, that evokes a feeling of awe about life and responsibility, and where we are and what we want," he said. "We have a responsibility not just to grow with ourselves; we have a responsibility to do some healing."
Har Mishpacha will hold services at the Church of Jesus Christ of Latter-day Saints at 7 p.m. tonight, and at 10:30 a.m. and 4 p.m. Saturday. The Break Fast dinner is at 5:30 p.m. Saturday.
Salky, who came to Steamboat Springs from Memphis, Tenn. - where her congregation had about 1,400 families - said, proportionally, the Har Mishpacha congregation catches the same 1 percent of the population.
"I thought when we moved to a smaller community, the Jewish community would be small, but percent-wise, it's about the same amount," Salky said.
Har Mishpacha occasionally holds services in private homes on those Fridays when Goldman is able to come to town.
In the winter, Goldman, who at 80 years old is an avid skier, likes to hold a small service at the base of the ski mountain, then sail down it with his congregation. Goldman's background in counseling makes him a great listener, and his affinity for children is a strong asset, Salky said.
There are about 15 children in Har Mishpacha's Sunday school program, which starts teaching lessons in Hebrew, the Torah and melodies for prayer to children in first grade.
In larger Jewish communities, those classes are taught at a designated place of worship. Because Har Mishpacha serves a smaller congregation with no permanent facility, Salky and Liman said more goes into the educational aspect.
"It does take much more effort to be Jewish here," Liman said. "You can't just drop your kids off and let them have class. You have to take part."
Har Mishpacha's reform services and informal nature were a shock at first to Salky's orthodox background, but she said she has come to appreciate them.
"I realized, 'How lucky am I?' It's truly about gathering our people and rejoicing or observing, and anyone is welcome to come."