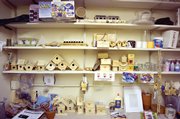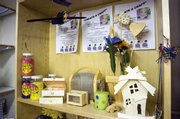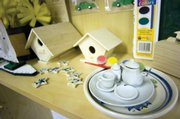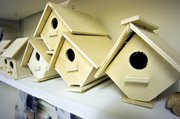 Key points
The Gym is open from 9 a.m. to 6:30 p.m. Monday through Saturday
Steamboat Arts & Crafts Gym, 1280 13th St.
Day passes for the gym are $20 for adults and $10 for children. Three-hour passes are $10 for adults and $5 for children. Adults supervising children do not pay entry fees. Each craft comes with an additional cost, from $5 to $10.
870-0384
For more information, go online to www.steamboatarts...
How it works
"Create a Craft" has three menus: Kid's choices for children 12 years and younger, more detailed crafts for children older than 12 and adult crafts.
All materials are at the Arts & Crafts Gym, and craft assistance from one of the gym's employees is available.
Steamboat Springs — Since it opened in January, the Steamboat Arts & Crafts Gym has offered space and materials for visiting or local art fans to make projects ranging from finger painting to quilt making.
With her latest marketing plan, "Create a Craft," gym owner Diane Davis said she wants to make it even easier for children and adults to come in, create and get out.
"I wanted to give people an opportunity to come in with their kids or grandkids and make a mess," Davis said.
The crafts are individually priced, divided into age groups and are available any time the gym is open. To make anything from a decorated fabric umbrella to sand art to a beaded bracelet, all a parent or child has to do is go in, choose a project and get to work. All the materials are on site in a small art supplies store.
Davis said she's looking to officially launch "Create a Craft" at the beginning of October, but all art supplies and space to make a mess are at the gym now.
With materials for more than 25 art projects on hand and plans to get crafts for Halloween and the holidays going before too long, Davis said she is still in the process of fleshing out the program's offerings.
"That's why I don't sleep, it's just too much. There's just all these ideas stirring around in there," she said.
The program is at least partially geared toward tourists, especially those with young children who want to escape outdoor activities for an hour or two. For a 2- or 3-year-old, completing a craft project is a way to fill an hour. For older children, it's a way to make gifts for the holidays or try their hand at something new without trashing the living room at home.
For everyone, it's a way to do an art project without having to track down the hot glue guns, fabric markers and paint thinners you need to make it.
"The beauty of the gym is that you can cater it to be whatever," Davis said. "We're pretty loose around here. You don't have to be a professional. You don't have to have initials after your name. It's just fun."
The gym also offers an after-school program, birthday and other parties, and classes from sewing to fall wreath making. Members pay a flat fee by the month or year, or can purchase a 10-day punch card. From there, the gym has art supplies for sale and sewing machines, pottery wheels and drawing easels available for use.
"It's really like the (Old Town Hot Springs) Health and Rec, but it's for arts and crafts," Davis said. "I can go downtown to the gym and do my own thing, and don't necessarily need to take a class."