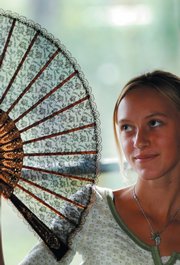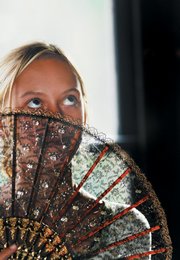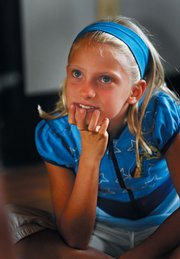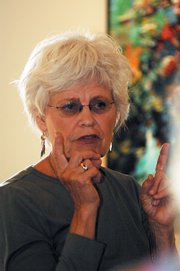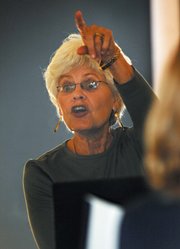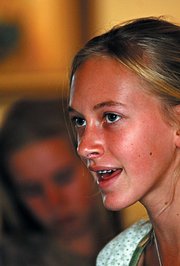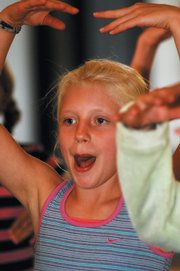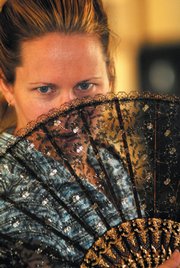 Key points
Emerald City Opera Youth Performance Workshops
3:40 to 5:10 p.m., Mondays through Dec. 3
The Depot Art Center
$22 per class drop-in cost (only if space is available)
879-5986
Steamboat Springs — Holding your own on an opera stage goes beyond singing - you also have to be able to stand up and sit down in a hoop skirt.
"You have to know your song, and then learn how you move and how you dramatize that - it's all one thing," said Marie Carmichael, who teaches choral singing for Emerald City Opera's Youth Performance Workshops.
"Eventually, once they get more clear on how to do that, then we combine it so they feel comfortable on stage."
At the workshops, students meet once a week for an hour and a half to learn choral singing, stage movement and acting.
"It's kind of a sampler with some meat behind it," said Keri Rusthoi, movement instructor and Emerald City Opera artistic director. The workshops, which started Sept. 10, are held at the Depot Art Center on Mondays from 3:40 to 5:10 p.m.
At the second workshop of the series, a group of 16 girls in grades 3 through 8 spent the first half of the class learning the basics of ensemble singing from Carmichael. To teach simple harmony, Carmichael led the students in a round of "Row, Row, Row Your Boat," then applied that lesson to the "Alleluja" from Mozart's "Exsultate jubilate."
"This is a prettier harmony, but it's the same thing," she said.
For the second half, Rusthoi unloaded bags of costumes and props, including arm-length gloves, feather boas and hoop skirts, to give the students an idea of how to move on stage.
Once they get a few more classes behind them, participants will prepare solo songs and monologues to perform in front of the group in a master class.
"That's part of learning how to perform - being able to stand up in front of a group and perform without that group," Rusthoi said. "When you can create a small creative environment to explore that, it's like golden."
The concentration is on learning a little bit about a lot of skills, with a background in choral singing. Unlike music lessons or drama rehearsals, there's no culminating performance at the end of the session.
Instead, Rusthoi hopes the workshops will plant a seed for having a children's chorus in future Emerald City Opera productions, such as the one for last year's staging of "La BohÃme."
"There's a lot of opportunity in this town for youngsters to perform, because that's what the parents and the kids like," Rusthoi said. "But there aren't a lot of opportunities to actually study the craft."
Because they don't culminate in a recital, Rusthoi said the Emerald City workshops eliminate the pressure of preparing. So, students can concentrate on putting a skill set together without having to worry about putting it on stage. It keeps the workshops' teachers from focusing on just one piece, one monologue or one dance - Rusthoi likened that kind of learning to prepping for a standardized test.
Instead, she and Carmichael hope the workshops will give their participants a taste of theater they might want to develop later on.
"I think we probably have it already, but we want to light that spark of the stage in them," Carmichael said.