Center offers hiring help
Workshop to explain employee documentation law
Friday, September 21, 2007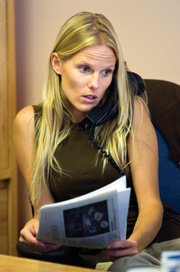 Steamboat Springs — Colorado's new employment verification law is the topic of a roundtable discussion at Howelsen Lodge on Monday.
Joseph Herrera, a compliance officer with the Division of Labor, will lead the discussion, which is sponsored by the Steamboat Workforce Center and is scheduled from 2 to 4 p.m. at the lodge on Howelsen Parkway. The law spurring conversation is House Bill 1017, which went into effect Jan. 1 and mandates new employment verification requirements that go beyond the federal statutes most employers are familiar with.
"We know that this new employment verification law has many employers concerned," Department of Labor and Employment Executive Director Donald J. Mares said. "They are concerned that they will be unable to identify authentic documents or that they will unwittingly violate the law and be subjected to a fine. We want to help guide them through this process by offering ongoing assistance and education."
The new state law requires that employers examine the legal work status of new hires and retain copies of the I-9 documents presented for employment eligibility within 20 days after hiring a new employee. It forbids employers from altering or falsifying the employee's identification documents and knowingly hiring an individual unauthorized for employment.
Jackie Mitchell of the Workforce Center said the law applies to all new workers and is an outgrowth of concerns about an increase of undocumented workers in Colorado. She said the additional requirements are impacting employers in Routt County and statewide.
Fines associated with the law run from $5,000 to $25,000.
In addition to the new law, the two-hour discussion will also discuss labor laws in general. Tracy Barnett, executive director of Main Street Steamboat Springs, said the realm of labor laws can be murky, especially when it comes to spotting fraudulent documentation.
"A green card doesn't look like a green card," Barnett said. "Most of us have never seen these things. We don't know what the official papers are supposed to look like. It would be very easy to get a fake by, even if you do your due diligence."
Those who wish to attend Monday's workshop can RSVP by calling 879-3075 or emailing bbradbury@cwfc.net.