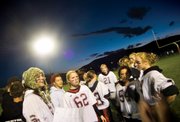 Soroco High School homecoming events
2007 "Prepare for Total Ramination" Soroco High School homecoming events
Today
- 18th annual Soroco Ram Fan Booster Club Chili Cook-off from 5 to 7 p.m. in the high school's commons area. The cost is $5 for adults.
- Power volleyball (girls coach the boys playing volleyball) at 7 p.m. in the Soroco High School gymnasium.
Friday
- Pep rally featuring the unveiling of a donated ram sculpture at 2 p.m. at Soroco High School
- Homecoming parade at 3:15 p.m. Parade starts at Bonfiglio Drug on Main Street and ends at Soroco High School
- Volleyball games at 4, 5, and 6 p.m. against West Grand in the Soroco High School gymnasium
- Homecoming football game at 7:30 p.m. against West Grand at Soroco High School
Saturday
- Semi-formal dance "Retro Ramination" from 9 p.m. to midnight at Soroco High School.
Oak Creek — The Soroco Rams are back - with a fury.
Already three days into homecoming week, South Routt School District students, staff and parents have been "preparing for total Ramination" beginning with tonight's much-anticipated 18th annual Soroco Ram Fan Booster Club Chili Cook-off. The equally entertaining power volleyball game follows the Chili Cook-off at 7 p.m. Power volleyball is an opportunity for the school's girls volleyball team to coach high school boys.
Freshman Pie Lombardi is playing in tonight's game and chose this year's homecoming theme of "Preparing for total Ramination."
"It just rolled off the tongue, I guess," he said.
Head girl Amanda Wilson said the theme fits with all of the week's activities.
"We agreed on it because it was really universal, it could be anything," she said.
Soroco Middle and High School Principal Dr. James Chamberlin said Tuesday that this year's homecoming is a mix of traditional favorites and a few new features.
Tonight's Chili Cook-off, which is a fundraiser for Soroco High School athletics, is always popular, he said.
"Obviously the Chili Cook-off is a good time," he said. "It's a South Routt tradition and community event that quite a few people get really into."
New this year will be Friday's unveiling of a large ram sculpture being donated to the school by Mike Hendrickson, who is the parent of former Soroco students and served on the South Routt School Board for several years, Chamberlin said.
Soroco students will have the opportunity to name the new ram, which will find a permanent home in front of the school courtesy of the school's wood shop class.
The ram's name, along with homecoming royalty and the Chili Cook-off winners, will be announced during halftime of Friday's football game against West Grand.
Also Friday is the homecoming parade, which is scheduled to begin at 3:15 p.m. in front of Bonfiglio Drug before climbing Main Street and ending in front of Soroco High School.
"It generally consists of four or five floats and the band. It's more of a spirit march," Chamberlin said. "We'd like to invite the community to come and support their Rams because we typically have more people in the parade than watching it."
Wilson agreed.
"We invite people to come watch it and see what we come up with," she said.
A South Routt School District staff and family barbecue will follow the parade from 3:30 to 6 p.m. The barbecue is an effort to include all South Routt staff and faculty in the week's events, Chamberlin said.
"We'd like to reach out to all the hardworking staff in South Routt because this is a pretty labor-intensive week," he said.
Chamberlin said the school's volleyball team is looking strong for its games against West Grand on Friday night. Despite suffering a few player injuries early in the season, the football team also looks to be competitive, he said.
"There are some great things going on in South Routt," he said. "We're excited about moving through the week."
- To reach Alexis DeLaCruz, call 871-4234
or e-mail adelacruz@steamboatpilot.com