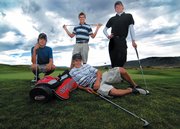 Steamboat Springs — Before the best high school golfers in the state can tee off at Broomfield's Broadlands Golf Course in search of a state title, they must prove themselves at regionals.
That's exactly what the four golfers representing Steamboat Springs High School hope to do Thursday when they challenge the tight fairways and small greens at Conquistador Golf Course in Cortez at the regional tournament. The tournament is scheduled to begin at 9 a.m. The top two teams and the top seven individual golfers who are not on either of the qualifying teams will earn invitations to Broomfield to play for state titles Oct. 1 and 2.
"You can't worry about the next tournament," Steamboat Springs senior Billy Taylor said. "You have to play it shot by shot. That's the best mindset."
Sailors coach Steve Dodson told his golfers to forget about the state tournament and what it takes to get there. He wants them to concentrate on their games and on making the most of the course they will play this week.
"The key is not to worry about qualifying," Dodson said. "If these guys can go out and play the game a shot at a time, have a good time and post a solid score, then everything else will take care of itself."
Dodson announced earlier this week that seniors Michael Weston and Taylor will lead the team in Cortez. Sophomores Kaelen Gundersen and Scott Ptach will fill out the team. Both of the younger golfers will be making their first regional appearances.
"I have a good feeling about it," Ptach said. "I'm going to take it like any other tournament and try to stay calm. I might sit off to the side before I tee off and try not to get too wound up."
The golfers competed in Cortez earlier this season and are familiar with the layout of Conquistador Golf Course.
Dodson said the course shares similarities with Steamboat Golf Club and Yampa Valley Golf Club in Craig. That's why the coach scheduled practices at both of the local courses before the team left Tuesday afternoon.
Despite finishing second at last year's regional, and being a regular state qualifier, the Sailors are not favored this week in Cortez.
"There is no question that Basalt is going to be the favorite this week," Dodson said. "We need to take care of our own business, and we can't worry about what the other teams are doing."
Steamboat's last victory at the regional tournament came in 2005. However, the team has been in the top two for the past five years and qualified for state as a team in each of those seasons.
It's a streak the golfers and their coaches are confident they can extend this year, but competition among the teams on the Western Slope has been fierce.
"You just have to think positive," Weston said. "I'm feeling good - no negative thoughts."