Tom Ross
Tom Ross' column appears in Steamboat Today. Contact him at 970-871-4205 or tross@SteamboatToday.com.
Find more columns by Tom here.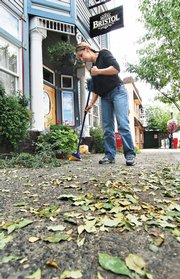 Steamboat Springs — The snow arrived right on time. It just didn't arrive at the correct address.
I've been telling the new generation of Steamboat Pilot & Today reporters that they could expect to see the first dusting of snow on Storm Peak's forehead by Sept. 15, give or take a couple of days. My informal observation is that more years than not, we wake up on a morning in mid-September to see a harbinger of winter above the 9,500-foot line on Mount Werner.
That first snow almost never lingers until a second day, but it's as plain a reminder that the season has changed as you'll ever see.
This year, I awoke in bed at 2:30 a.m. Sept. 17, quite certain I'd missed the mark with my prediction. The sound of rain pounding down and the thermometer told me I wouldn't see snow on the ski mountain. The new kids in the newsroom were sure to think I was full of white stuff.
It wasn't until mid-morning that a resident of North Routt informed me that snow had indeed fallen on Sand Mountain, which dominates views from the north shore of Steamboat Lake. That was good enough for me. I felt vindicated.
Often when I ruminate on the changing seasons and weather patterns in the Yampa Valley, I think of a long-gone old timer named Wayne Light.
Wayne was the first weatherman I ever knew in Steamboat Springs and belonged to a select group of people - those who first arrived here in a horse-drawn stagecoach. Wayne rolled into town with his family in 1905.
I consider it an honor to have known and interviewed a handful of those special individuals.
Wayne spent much of his life milking dairy cows and raising silver foxes and mink for their pelts. He also raised Great Danes for a time. He was also a loyal school bus driver.
He liked to wear "gimme" ball caps, the kind with advertising on the front. One year, it was GMC Trucks. Another year it was a hat bearing the logo of a brand of seed corn produced by Edwin J. Funk & Sons. The patch on the front of his cap read "Super Crost."
He was quite possibly the nicest guy in town until his passing on June 2, 1985.
He was shy and assuming, but unfailingly pleasant.
How shy was he?
In an interview with the late Pilot editor Dee Richards almost exactly a month before his death, he confessed his reticence.
"I was so shy I never once raised my hand at school to get a drink or go to the bathroom," he told Richards. "I never had a date. In fact, I never talked to a girl, if I could help it."
So, it's amazing to recall that not only did Wayne marry Helen and stay hitched for more than 50 years, but also that he stole her from another fella.
He met his future wife in fifth grade, but it wasn't until years later that he got up the courage to ask her for a dance.
"At the time, she was engaged to someone else," he said. "You might even say she was engaged to two-thirds of the boys in our class, since there were only three."
Nice story, huh? But what does Wayne Light's courtship have to do with snow on Sand Mountain?
I'll tell you what.
Wayne Light wrote more than 2,000 weekly weather reports for the old weekly Steamboat Pilot in 40 years as Steamboat's official weather observer. During all that time, he dutifully recorded daily snow depth, rainfall and temperature readings from an impeccably maintained weather station outside his home on hospital hill. He kept his observations in a small notebook. Once a week, always before deadline, he hand-delivered them to the newspaper and hung out for a few minutes to exchange pleasantries.
In 1979 he was one of 26 weather observers nationwide to receive the John Campanius Holm Award from the National Weather Service.
Several months before his death, at the age of 81, he published an autobiography, "My First 81 Years."
Wayne, I don't know if you'll get a chance to read this column, but you're not forgotten.
And by the way, it snowed on Sand Mountain on Sept. 17, 2007.