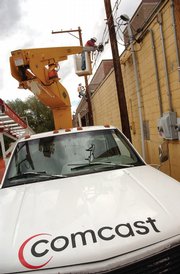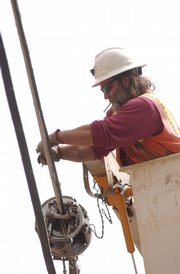 Steamboat Springs — About half of Comcast's cable TV and Internet customers in Steamboat Springs were without service for eight hours Monday after a truck collided with a downtown utility pole, disrupting the above-ground fiber optic cable that is critical to the service.
Comcast spokeswoman Cindy Parsons said some service had been restored by about 3 p.m. and the balance was restored by 3:45 p.m. She stressed that the cause of the outage was outside of Comcast's control.
The fiber optic line was broken at about 7:20 a.m. near the intersection of Third Street and the alley to the rear of the Healthy Solutions food store. Tattered utility lines were hanging from a pole where Third Street dead ends, and crews were working on the problem at midday.
"We've been working diligently to restore service," Parsons said. She added that different service "nodes" come back gradually.
"The crews are having to splice those fibers," Parsons said.
Company policy precludes Comcast Tech Supervisor John Prather from commenting directly to the media.
The affected households and businesses were to the south along U.S. Highway 40 and included the ski area base.
Parsons said technicians from Denver and Avon were called in to assist with the repair.
The loss of high-speed Internet access and e-mail was felt by businesses in the affected area.
Prudential Steamboat Realty co-owner Cam Boyd said 60 percent of his firm's business comes from out-of-town customers. The most efficient way to execute contract changes, for example, is via e-mail. Faxes are an option, but far more cumbersome.
"There's no good day to be out of commission with e-mail and Internet in this business," Boyd said.
Without access to the real estate listings the Steamboat Springs Multiple Listing Service maintains on the Web, his staff lacked the ability to research comparable sales or even the most basic facts about properties their clients were interested in, Boyd said.
"The majority of our agents use a piece of database management software called Top Producer to track the progress of contracts," Boyd said.
Without Internet access, the software the Realtors use to keep up with the "to-do list" for contracts moving toward closing was unavailable.
One of the more recent service disruptions for Comcast also was attributable to circumstances outside the company's control. A power outage in west Steamboat took out Comcast cable TV throughout the city. The electric outage experienced by Yampa Valley Electric Association was due to a marmot that got past a chain-link fence and climbed onto a transformer. The result was a blown fuse that took down electric power and cable TV for two hours.