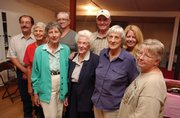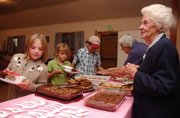 Toponas — Pat and Jim Woodcock's longtime romance budded in the one-room, white building that has served as Toponas' "heart and soul" and meeting place since 1924.
Yampa resident Gene Sanders remembers acting in years' worth of school plays and attending Christmas parties in the building located off Colorado Highway 131.
Wanda Redmond reminisced about kicking up her heels every Saturday night during high school for community dances and dinners.
On Monday, eight longtime Toponas families, other South Routt County residents and historic preservation officials gathered at the Toponas Community Club building to unveil its restoration with live music, memories and ice cream.
A huge accomplishment
Arianthe Stettner, former executive director of Historic Routt County, said preserving the building, which was added to the county's historic registry in 2001, was a huge accomplishment for the community.
"You could call this building the heart of the Toponas community," she said. "This is where generations of families all meet. Without this building, they'd have nowhere to go."
Stettner said the community's rich ranching character was out in full force Monday.
"The Egeria Park area was one of the first settled areas in the county," she said. "These are the roots of Routt County. The families that stayed are the true heart and soul of the county."
The restoration process itself began in 2000 with the simple goal of replacing the building's drafty windows. After acquiring grants from state historic funds and the Board of County Commissioners and money from Historic Routt County and lining up volunteers, work began in February.
The building was painted, a new concrete entrance, side porch, windows and doors were put in and the roof was repaired. There are plans to continue working on the building as funds become available, Stettner said.
Phippsburg contractor John Bergstrom said his project goal was to preserve the building's historic character by matching the building's doors and windows to its originals.
"It's an old building, which is always a challenge because everything was cracked and leaning," he said. "It turned out good, though. It looks real nice."
Former teacher and Community Club president Mary Jean Perry agreed.
"It's just beautiful," she said. "It's more than any of us could have ever, ever dreamed."
Binding the community
Perry said the value of the building is priceless.
"The Community Club has held the community together," she said. "When something happens here, we're there. We're a very tight-knit community."
Redmond, who grew up in a house north of the Community Club building, said she was proud to have been involved in restoring the building.
"This hall is unique as far as Routt County is concerned," she said. "So often, I feel people living in South Routt feel like they're the stepchildren of the community, so it's been a great thing to preserve our community spirit."
Todd Hagenbuch, executive director of Historic Routt County, said he was impressed at the community's willingness to get its most important building preserved.
"It says the South Routt community is alive and well," he said. "They all love this area, and it's about the love they have for this building and each other."
Throughout the years, the building has hosted ladies' meetings, plays, reunions, community meals, candidate forums, dances, holiday parties, school classes and funeral services.
The Toponas Community Club, which has about 40 active members, meets at 7 p.m. the second Monday of each month.
"It's always been a place to gather. Good or bad," Perry said. "It's part of us. You can't separate the hall from our personalities."
- To reach Alexis DeLaCruz, call 871-4234
or e-mail adelacruz@steamboatpilot.com