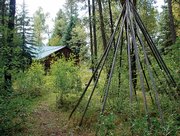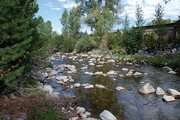 Steamboat Springs — The husband-and-wife development team of Peter and Kim Kreissig have acquired the 3-acre Selbe property on Fish Creek for $5.75 million.
The land is immediately east of the Safeway grocery store and Rollingstone Drive. Kim Kreissig said it is premature to provide details of their plans for the property. However, she said they envision creating an arts neighborhood consisting of high-end condominiums combined with low-intensity commercial - perhaps offices for people in the creative fields and artists' studios.
"We want to maintain the feel of the property," Kreissig said. "It's a stirring piece of land back there in the forest. There are 100-year-old evergreen trees. It's a place where you can have a Zen moment. Peter and I will try to be a sensitive as we can" in the development process.
Jim Selbe confirmed the Kressigs have consulted extensively with him on ways to respect the qualities of the land.
Technically, Graystone Investments made the purchase. Peter Kreissig is the registered agent of the limited liability company.
Kim Kreissig is a Realtor with Prudential Steamboat Realty and Peter Kreissig is a building contractor who owns K&K Builders. Their most recent project is the Stonewood townhomes on Eagleridge Drive.
The Kreissigs tentative plan to create a mixed-use subdivision with an arts theme acknowledges the previous property owners. Selbe is a noted metalworking artist whose studio remains on the property, fronting on Pine Grove Road. He said he expects to continue working in his studio for 6 months to a year while the Kreissigs pursue a development permit.
Selbe's parents, Keith and Anne Selbe, moved to Steamboat Springs from Kansas in 1942. His parents and grandparents had been ranchers in Kansas and preceded Keith, moving to Steamboat in the 1930s to escape the Dust Bowl.
Keith and Anne Selbe ran a dairy farm at Casey's Pond, where Jim and his sister, Anita, grew up.
Keith Selbe was a familiar figure, clad in denim jacket and cowboy hat, in Steamboat until his death in August 1994. He was an avid horseman who trained sorrel quarter horses and drove around town in a Jeep CJ.
The Kressigs have a track record in townhome and single-family home development in Steamboat. The eight-unit Willowbrook and 16-unit Willows townhomes in the Chinook Lane neighborhood both sold-out prior to completion between 2001 and 2004. They moved on to the 223 more luxurious townhomes in Stonewood in 2004.
Kreissig said negotiations on the Selbe property were concluded rapidly. The prevailing "community commercial" zoning suggests the mixed residential commercial use.
"It was too unique for us to pass up," Kreissig said.
- To reach Tom Ross, call 871-4205
or e-mail tross@steamboatpilot.com