Hayden's Vocational Education Facility to undergo 8,000-foot expansion
Sunday, September 16, 2007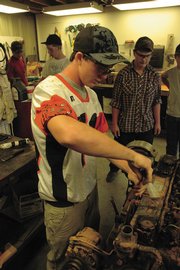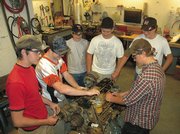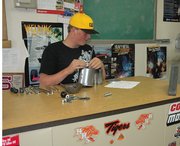 Some students at Hayden High School finish their day with paint-covered hands from art class, but Chase Salazar's often are grease-stained after time spent in the school's shop facility.
"I don't have much of an excuse if my car doesn't run," said Salazar, 16, as he worked on an engine in the school's diesel mechanics class.
College welding, base mechanics and auto-body are other courses the high school junior has completed in the school's career and technical education program, which currently is housed in the district's bus barn.
Superintendent Mike Luppes hopes an 8,000-foot expansion of the facility will help the school accommodate more students into the program.
The Hayden School Board is slated to consider approval of a bid for the construction project at its meeting Wednesday.
"We have 48 welding class spots open and 116 kids signed up," said Luppes, who noted the high school has only 151 students enrolled.
"That's almost two-thirds the school," he said. "We will double the size of that building. We are very limited to the number of kids we can have in each class. This will give us space where we can greatly expand our programs. We will at least double the size of our classes, which we can do with existing staff."
In October 2006, Luppes met with Hayden High School Principal Troy Zabel and School Board President Brian Hoza to discuss how to expand the vocational education program to both students and the community.
"We started the brainstorming for it, then the next thing we knew, we were in the fundraising efforts, and then school put up some money, we got a bunch of other people and we ended up having $580,410," said Luppes, who noted the district received an additional $500,000 through the Colorado Energy Impact Grant.
The school district contributed $100,000 to the project, while 15 companies, foundations and families gave more than $10,000 each.
"This has been a huge community effort, and we have asked for no bond initiatives," he said. The lowest submitted bid for the project was $1.35 million.
"It's a little more expensive than we had hoped it would come in as, but we are working on those numbers evening up," he said. "We are hoping next Wednesday, after the School Board meets, everything is in place and we tell whoever gets the bid to start digging dirt as soon as possible."
In Festus Hagins' diesel mechanics class, Salazar joined Erik Sundberg and Levi Hallock around a heavy machine engine.
The students rummaged through the toolbox, which was donated - along with the engine - by the Wagner Equipment Company in Hayden.
"I can't wait to have some more space so we can get some more engines in here to work on, but ideally, we'd like to have two or three kids on an engine," said Hagins, who noted he'd like to add hydraulics and powertrain lessons to the class.
Luppes said the program grew from four students to seven students this year, and he hopes expanding the building will increase the number of students to 12.
"We have had conversations with the Colorado Mountain College that when our classes end, they will pick up with adult-ed classes all through the evening" he said. "It will be available for community use. That was one of the things we went to the people who donated, that we wanted this as a community building. It would also provide classes to all the adults."
Luppes said detractors of the program, who have criticized the district for encouraging students to prepare for careers outside of the four-year college degree tract, are misguided. He said the program instills life skills that everyone would benefit from, including college-bound students.
"Kids may major in math, but they don't have any concept of some of the career fields that may be open to them," Luppes said. "This program, by working with their hands, may open their eyes to different engineering aspects, construction, all those different things, such as architecture. It opens their eyes that they can also do these things with their math skills."
As Sundburg tightened a bolt on the engine, he said he knows exactly where he wants his career path to take him.
"I'm going to be a welder," he said. "Sometimes, I don't even feel like I'm going to school when I'm in here."