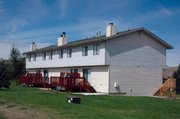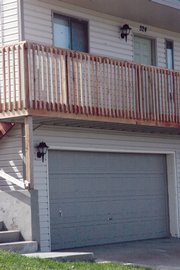 Steamboat Springs — After state Rep. Al White, R-Winter Park, bought a townhouse in Hayden a year ago - unlike Winter Park, Hayden sits in the 8th state Senate district for which White has announced his candidacy - carpetbagger allegations were perhaps to be expected from Democratic rivals.
But some local Republicans, including White's former campaign manager, are making the same accusations.
"I doubt he can find his condo without the help of his Realtor," said Paul Epley, a Hayden resident and White's former campaign manager for the representative's first two successful runs at the state House. "It's a straight political thing to get him into the district."
White acknowledged that state statute required him to establish residency within District 8, but he flatly denied carpetbagger allegations.
"I think it's a pretty lame argument to make," said White, who claims to spend about a third of his time in Hayden. "It's home."
County records show White bought his Hayden townhouse in the 300 block of Vista Verde Drive on Sept. 7, 2006, for $160,000. Neighbors contacted Friday said they were unsure how often White is at his Hayden townhouse, either because they didn't know who he is or, if they did, didn't know what he looks like.
White said he chose Hayden because it is "well located to serve the district" and affordable. He called Hayden "a fun little community."
Overlapping districts
White said it makes sense for him to run for District 8 because it overlaps almost exactly with House District 57, his current seat. His house district includes all or parts of Garfield, Grand, Jackson, Moffat, Rio Blanco and Routt counties.
Senate District 8 includes all of Moffat, Routt, Jackson and Rio Blanco counties, as well as parts of Eagle and Garfield counties. It does not include any of Grand County or Winter Park. Some Republicans, including White and Routt County Republican Central Committee Chairman Vance Halvorson, say Democrats redistricted the state in 2002, intentionally excluding Winter Park, and thus White, from District 8.
Had he stayed in Winter Park, White would have had to run in Senate District 16, a primarily Front Range district which includes Grand, Summit, Clear Creek and Gilpin counties and parts of Boulder and Jefferson counties.
Although he takes issue with White's residency claims, Epley admitted White would be out of his element in District 16, where only one county overlaps with his House district.
"If Al stays in Winter Park, he's virtually unknown," Epley said.
Halvorson said it makes sense for White to run for District 8 and doesn't have a problem with him only recently establishing a residency in Hayden.
"He's represented most of the district very well," said Halvorson. "He's very tied to the value judgments we have on the Western Slope."
Formidable opponent
White has been elected to four two-year terms in the Colorado House of Representatives, but is ineligible to run again for a House seat because of term limits. State Sen. Jack Taylor, R-Steamboat Springs, has been White's ally in the state Legislature and currently represents residents of Senate District 8. Taylor is ineligible to run for re-election in 2008, also because of term limits.
White would be a formidable opponent in a race for the state Senate. After first being elected in 2000, White has won the past three campaigns for House District 57. In November 2006, he won a strong victory against Democratic challenger Andy Gold of Tabernash, despite an election that saw widespread victories for Democrats across the county, the state and the nation. White has won majorities in Routt County in at least his past two elections.
White might see stiffer competition in the Senate race, however. In the past election, Taylor barely hung on against Democratic challenger Jay Fetcher, a rancher who coordinates U.S. Sen. Ken Salazar's visits to Routt County. Taylor won that race by a slim margin of 28,521 votes to 26,896 votes.
It's also not guaranteed that White won't see a primary opponent. While receiving the support of Taylor and Halvorson, other local Republicans are dissatisfied with White and are seeking out another Republican candidate.
"There are a lot of folks who have been active in the Republican Party who are not especially fond of Al," said Rick Akin, director of the Conservative Leadership Council of Northwest Colorado.
Both Akin and Epley said they were unhappy with some of White's decisions in the General Assembly, particularly his support of Referendum C, which weakened the tax limitations imposed by the TABOR amendment.
"I like Al as a person, but I think he let us down," Epley said. "He sold out."
Brenner bid?
While some Republicans are seeking out a Republican challenger to White, Steamboat Springs City Councilman Ken Brenner, a Democrat, also is contemplating a run at the state Senate himself.
"I have been encouraged by Democratic elected leadership to consider a bid for the Senate District 8 seat in 2008," Brenner said. "It's not an announcement (of candidacy), but I'm seriously considering it."
Brenner would not say who in the Democratic elected leadership is encouraging him. But U.S. Rep. John Salazar hinted at a Brenner candidacy earlier this summer.
"If you see Ken Brenner's name on a ballot, I'd encourage you to vote for him," Salazar said at an August fundraiser in Steamboat. "He's being asked by John Salazar to run for a very prestigious position."
Brenner said Western Slope water resources would be an important issue for the Senate race. He is a former council president and chairman of the Routt County Democratic Party.
"It's very humbling to be considered for such an important responsibility," he said.
- Mike Lawrence contributed reporting to this article.
- To reach Brandon Gee, call 871-4210
or e-mail bgee@steamboatpilot.com