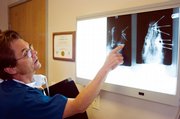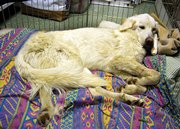 Steamboat Springs — The past four weeks of Maxwell's life have all the ingredients of a great tale of survival.
Left for dead with a gunshot wound to the mouth, the 10-month-old Great Pyrenees wandered for almost a month in the Routt National Forest before he was found Sunday by a group of hunters outside of Hayden.
"How that dog didn't starve to death with that wound is amazing to me," said Dr. Kimberly Radway of the Pet Kare Clinic in Steamboat Springs. Radway has helped treat Max since he was dropped off Sunday.
"Someone shot the dog in the face, and because of shock he most likely passed out," she said. "They probably thought he was dead, but it missed all the vital organs. It just broke the jaw. I can't believe he survived it."
Radway said Max had a collar with a rabies tag, which she used to track down his veterinarian in Wyoming.
"We found out the name and phone number of the owner through the vet and we tried contacting the owner," she said. "We've had no calls back. We were told through the vet clinic that the family were sheep herders and that this dog was a herding dog."
Despite the recent attention given to Max's breed after five Great Pyrenees attacked and killed another dog near Dumont Lake on Labor Day, Radway noted Max has not acted aggressive toward other dogs.
"He's so sweet and loving," she said. "The hunters said that when they found him in the woods he just ran right up to them."
On Thursday, Max took his next step toward recovery as Dr. Erick Eggers, the senior small animal orthopedist at Colorado State University, donated his time to repair and rebuild the dog's jaw.
"I came up to see some new patients to do some surgery on clients, and then this pup was here," said Eggers, who brought three of his students for his monthly trip to Steamboat.
"There was a lot of infection around the wound - it's a feat of survival," he said. "He's a tough dog, and the fact it got to this point is amazing."
Eggers removed pieces of fractured bone and bullet fragments from Max's jaw and stabilized the area with screws. Approximately 1.5 inches of bone were removed, but Eggers said he expects a full recovery as the bone regenerates.
The $3,000 medical bill was taken care of courtesy of the Northwest Colorado Animal Assistance League and the Fredmeyer Fund.
To make Max feel more comfortable after his hardships, Pet Kare staff set a makeshift suite for the dog in the storeroom of the clinic.
Snoozing away and doped up on painkillers, Max already has endeared himself to one of Egger's students, who said she'd be a foster parent until a home is found.
"What we tend to try to do is get a dog to a foster home or adopted home straight from the clinic to make sure the dog will have an absolute defined next step," Radway said. "This dog is super sweet with people and animals."
For more information about how to donate to the Fredmeyer Fund or to adopt Max, call the Pet Kare Clinic at 879-5273.
- To reach Mike McCollum, call 871-4208
or e-mail mmccollum@steamboatpilot.com