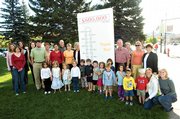 Steamboat Springs — Routt County United Way's 2007 fundraising campaign kicks off Monday with a donation goal of $600,000.
That's $50,000 more than last year's target, which the umbrella charity agency was able to exceed due to widespread help from the community.
Supporting more than 40 programs for health and human services in Routt County, United Way benefits people of all ages, said executive director Mark Andersen.
"United Way is such a vital part of our community because it reaches out to so many people, and we're fortunate we live in such a generous community that people give back," Andersen said.
Celebrating its 25th year, the United Way has allocated funds to such organizations as American Red Cross, Integrated Community, Humble Ranch Education and Therapy Center, Planned Parenthood of the Rocky Mountains and First Impressions of Routt County, a support group for early childhood programs across the county.
The agency and its support in the community have grown since its first year, when the snow on the ground topped the amount of money raised on the campaign's fundraising thermometer.
"It was kind of funny, so we've come a long way," Andersen said of the $40,000 in donations for the 1982 campaign.
As part of its effort to reach out to the community, United Way members will do presentations to businesses throughout the county.
"Part of our campaign is education - we try to express to people how many people are affected by some of these agencies," said Routt County United Way President Roberta Gill. "We have almost any kind of nonprofit that you can imagine."
- To reach Margaret Hair, call 871-4204
or email mhair@steamboatpilot.com