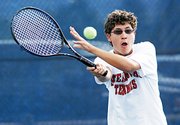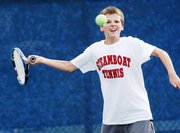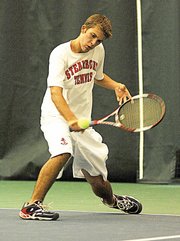 Steamboat Springs — Steamboat Springs High School tennis team singles players Ramsey Bernard, Matt Gadbois, Jeff Lambart set the tone for Friday's contest against Class 5A Boulder. But at the end of the tournament, it was the doubles team of Mirko Esparmer and Vladen Chase that slammed the door on the visitors.
"Our No. 4 doubles team came together, and they are really playing solid right now," Sailors coach John Aragon said. "They are two competitive kids and they want to win. They are leaving it all on the court and that's what we need to have - 11 guys deep if we want to win another regional title."
Steamboat opened up an important weekend homestand with a 4-3 victory against Boulder behind strong singles play and a valiant effort from the young group of players that fill the majority of the doubles positions.
"This was a big match because last year they beat us 6-1 as a team," said Lambart, Steamboat's No. 3 singles player. "It's really good for us to come out here and win as a team. We've been playing a lot of other schools, but this weekend is a chance to play some bigger, tougher schools."
But after passing the test against Boulder, Aragon doesn't expect things to get any easier for the team today. The Sailors are scheduled to return to the Tennis Center at Steamboat Springs at noon to face perennial power Greeley West in another challenging match.
"This is a great win. We are a young team, but we have a lot of heart and that's what it took to get that win against Boulder," Aragon said. "Our athletes need to play this level of tennis, because, when we get to the state tournament, that's all they will see from Round 1 through the finals. It's just tough, competitive players"
Steamboat's singles players set the tone in Friday's match by topping Boulder's singles players in all three positions. Bernard defeated Devon Belcher, 7-5, 6-3, at No. 1 singles; teammate Matt Gadbois defeated Ian Ron, 6-3, 6-3, at No. 2 singles; and Lambart survived a close, 7-6(3) 6-2, match against Boulder's Simon Lee.
"You have to stay focused and maintain the same pace because you can't change the way you play," Ramsey said about playing a close first match against Belcher. "Teams like Boulder raise the level of our game. They had a really good team last year. The guy who would have been playing No. 1 for them switched to Fairview, and their other two singles players graduated, but it's nice to play some different teams and different players."
The singles points were important as Boulder's doubles teams made a bid for the win with strong showings in three of the four positions.
Steamboat's Charlie Smith and Alex Gibbs lost to Boulder's Sam Galler and Gabe Kennedy, 6-2, 6-0.
Steamboat's No. 2 doubles team of Keegan and Jack Burger played well, but the freshmen just couldn't come up with the key points when they needed them. Boulder's Michael Bachman and Alex Barnos earned the win, but Aragon was happy with the young Steamboat players.
Steamboat's Chris Barounes and Zac Valicenti also lost, 6-2, 6-2. But the win at No. 4 doubles was all the Sailors needed to escape Friday's match with the win.
"Boulder's pretty good," Gadbois said. "We looked at it like they were going to be a tough team coming in. : I know Ramsey did well, and so did I. As long as the rest of the team keeps improving, we will be great this year."
- To reach John F. Russell call 871-4209
or e-mail jrussell@steamboatpilot.com