Vanishing point
The Depot's "Points on a Compass" looks at past, future
Friday, September 14, 2007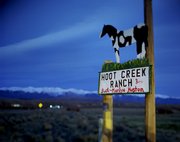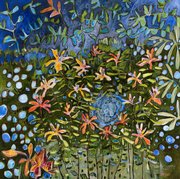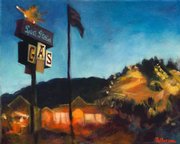 Past Event
Friday, September 14, 2007, 5 p.m. to 7 p.m.
Depot Art Center, 1001 13th St., Steamboat Springs
Not available
Steamboat Springs — The three bodies of work in the Depot Art Center's "Points on a Compass," contributing artist Phoebe Fulkerson said, have a common theme: they all convey a sense of disappearing.
For Fulkerson, that sense is literal. Her oil sketches are of scenes from around Steamboat Springs - but because of the city's booming development, many of those scenes no longer exist.
Fulkerson's paintings depict happy memories of what was, including landmarks such as the Harbor Hotel and El Rancho bar. Happy, but blurry - as Fulkerson points out, memories are rarely clean and precise.
"These are places that are really special to us. And it isn't just about Steamboat, it's about where you're from," she said. "I think all of us are kind of feeling a sense of nostalgia about our work."
The exhibit also features photography titled "Snapshots from the Road" by David Patterson and colorful flowerscapes titled "My Father's Garden" by Lance Whitner. An opening reception is from 5 to 7 p.m. today, and a gallery talk with the artists is from 9 to 10:30 a.m. Saturday.
As the show's title hints, the works are a way of orienting their creators in what is lost and what's to be gained.
The theme allows the three artists to take stock of where they are, be it past, present or future, Patterson said, and then use that point to choose a direction for the future.
His "Snapshots" takes stock of the transitory nature of rural structures - the trees or farmhouses that are there the first 100 times you drive past them, and then are gone the 101st. Patterson, who started snapping pictures on the road between Steamboat and Denver, selectively focuses parts of his photos to depict the fleeting nature of memory.
"It took a long time before I'd actually stop and turn around and go back," he said. "It's the sense of change and of taking stock and looking at where you've been and where things are going."
Whitner's work is more personal, interpreted images of her father's expansive North Carolina garden.
"I didn't try to capture specifics, like what kind of roses he grew. It's more about the feelings I had about those roses," Whitner said of her paintings and her father, who died of cancer last winter.
"It's a nice way to remember him and think about the passing of time."
More like this story