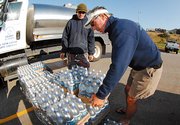 Steamboat Springs — A ban on water use in Steamboat Springs homes and businesses west of 11th Street to the city limits will remain in effect at least until this afternoon, when city officials expect to get the results of bacteriological tests.
If the test results - which require a 24-hour growth period for potential bacteria - show no contamination, the emergency "no water use order" will be lifted immediately, Public Works Director Jim Weber said. If there is contamination, however, it would be at least another 48 hours before the city could reassess water quality and possibly lift the ban. Some of the steps required to repair and measure water quality include hyperchlorinating the system, flushing the lines, submitting more samples and awaiting those test results, Weber said.
A construction contractor broke a water main Tuesday afternoon at the Bud Werner Memorial Library construction site, leading to the emergency order. The water main was repaired and pressure restored Tuesday, but the water still could be contaminated. City officials are asking that no water, even if boiled, be used for any purpose, including brushing teeth, showering or flushing toilets. Weber said that if there is bacteria in the system, using water would just circulate it more.
The affected
Two thousand homes and 300 businesses are in the affected area, which includes 60 miles of water lines. They city is providing for basic needs while the ban is in effect. Portable toilets have been set up throughout the west side of the city, water is being distributed at the Stock Bridge Transit Center beginning at 6 a.m., and free showers are available at Old Town Hot Springs.
City Clerk Julie Jordan said she hopes the community comes together and helps out during the inconvenience. Deputy City Manager Wendy DuBord encouraged people in the affected area to "rekindle friendships" and see if friends in other parts of the city will let them use their water for things such as showers.
City Manager Alan Lanning said about 40 city staff members from various departments had been working all day Wednesday to monitor and meet the needs of the community. An "emergency operations center" was set up in Centennial Hall, where city and county officials coordinated their response to the crisis.
Health concerns
Assistant to the City Manager Lauren Mooney said the city has received many calls from people who inadvertently used the water and are concerned about illness. City officials said people should contact a healthcare provider if they have diarrhea that lasts for more than two days, is bloody or is accompanied by a fever.
Christine McKelvie, a spokeswoman for Yampa Valley Medical Center, said the hospital has not seen any emergency room visits resulting from the consumption of contaminated water. McKelvie recommended people with concerns contact either the Northwest Colorado Visiting Nurse Association or the Routt County Department of Environmental Health.
Areas affected by the no-use order extend from 11th Street west to Steamboat Springs city limits and include Fairview, Dream Island Mobile Home Park, West End Village, Copper Ridge, West Acres Mobile Home Park, Downhill Drive, Steamboat Springs Airport, Riverside Plaza and industrial and commercial areas along U.S. Highway 40 west of downtown.
Areas not affected include Sleepy Bear Mobile Home Park, Steamboat Campground, Heritage Park, Steamboat II and Silver Spur. Also not impacted are Old Town areas north of 11th Street, including Colorado Mountain College, The Boulevard and Uncochief Circle.
Residents not in the affected area may have water that appears cloudy, but city officials say it is perfectly safe to use.
The lack of a redundancy system on the west side of Steamboat to compensate for such a situation was addressed at a press conference the city held Wednesday. Lanning said he expected the next capital improvements discussion with City Council to include some talk about it and that this week's experience may provide some incentive for the expensive improvements. A redundancy system for the west end of the city would mean water would be available from more than one pipe system.
What happened
At about 2:45 p.m. Tuesday, an Adolfson & Peterson Con-struction crew was searching for a water main with an excavator at the Bud Werner Memorial Library construction site when the excavator hit the line and broke it. The company has been contracted to build an expansion to the library.
City officials were informed of the break at about 3:30 p.m. and sent out a reverse-911 alert later in the day warning residents not to drink or use city water. The system lost pressure when the line broke, possibly allowing contaminants into the system.
Lanning said reverse-911 calls typically reach only 67 percent of people, so the city also had Denver TV stations run a scroll instructing people not to use their water. City officials also went door to door Wednesday distributing fliers in English and Spanish.
Contractor apologizes
Construction superintendent Mike Knack apologized for the incident Wednesday. He said the excavator hooked into a T-fitting on the pipe from an abandoned water line.
"The existence of that T-fitting was a surprise and led to us touching it without knowing it was there," Knack said. "We wish we had X-ray vision and could see through dirt. There's a lot of things underground that aren't documented."
Knack said he expects the company to be responsible for some of the costs associated with the break, but he had no idea what those would be.
"We wish it hadn't happened," Knack said. "It's a tragedy, and we know we have inconvenienced, to say the least, the whole city. Our big regret is the problems we've caused for everyone up here."
Lanning said it would be at least two weeks before costs to the city could be determined. He would not speculate what share of those costs the city would ask Adolfson & Peterson to cover and said only that the city would have discussions with the company soon and that those discussions would be "in the spirit of cooperation."
Lanning said he was pleasantly surprised by the support offered by the company. Company officials traveled to Steamboat from Aurora on Wednesday, and Senior Vice President Rich Allison said the company had arranged for 2,700 gallons of water to be delivered Wednesday evening.