Water ban lifted: All areas of west Steamboat cleared for use
City officials say test results showed no contamination
Thursday, September 13, 2007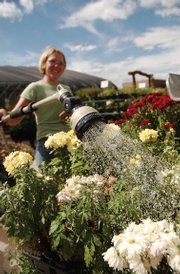 Steamboat Springs — A ban on water use in west Steamboat Springs was lifted this afternoon, after tests on nine water samples all came back showing no contamination. City officials said water throughout the city is safe to use.
The city sent out a reverse-911 call immediately after making the decision to lift the "emergency no water use" order enacted Tuesday after a construction contractor broke a water main at the Bud Werner Memorial Library construction site. Assistant to the City Manager Lauren Mooney said another call will go out at 6 p.m.
Water may appear cloudy, Mooney said, but is perfectly safe to use. The city is recommending people run their taps for five minutes to clear up the cloudiness for aesthetic reasons.
The water distribution center at the Stock Bridge Transit Center will remain open until 6 p.m. tonight and city employees will be taking calls until 7 p.m. to answer questions.
Call city offices at 879-2060 with questions or for more information.