Hayden's Jake Booco earns state bull riding title
Thursday, September 13, 2007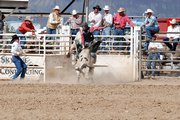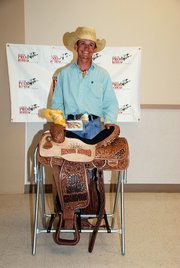 Steamboat Springs — Since Jake Booco began competing six years ago at Colorado Pro Rodeo Association events, a state bull riding title had been the one itch he just couldn't scratch. Five trips to the state finals yielded a pair of second-place finishes and three other top-five finishes.
The string of near misses ended last weekend.
Booco, a 23-year-old Hay-den High School graduate, won the CPRA State Finals, held Friday through Sunday in Grand Junction. The victory brought him more than the sought-after prize saddle - it brought redemption.
"I've finally won that thing," Booco said. "I've been so close so many times : now, I can say I've won it. As far as a season title goes, it's probably the most prestigious thing I've won."
Booco has spent years moving up the pro bull riding ranks. He's now cutting his teeth on the Professional Bull Riders' U.S. Smokeless Tobacco Challenger Tour and the Enterprise Rent-A-Car Tour, designed for riders to earn point money to qualify for the high-money, televised Built Ford Tough Series, reserved for the sport's top 45 riders.
But Booco has not forgotten about his goal or the rodeos where he got his start.
"I want that saddle," Booco said at the Sept. 2 PBR Rocky Mountain Bull Bash at the Brent Romick Rodeo Arena.
Booco made the rounds to nearly 30 regional CPRA rodeos highlighted by a memorable July 7 victory - his third - in Baggs, Wyo. The competition helped the wiry, 130-pound rider with a tough build work his way to the top of the bull riding standings heading into the state finals.
On his first go-around at state, Booco got tossed off Junior, a bull that had bucked him earlier in the summer.
"I didn't ride too good - maybe I was a little worried and trying too hard," Booco said.
But if there's one thing Booco knows, it's how to make a comeback. At a January bull riding event at the National Western Rodeo in Denver, a bull landed on Booco's leg, breaking his left femur and setting him back four months as he recovered. With a rod in his leg, Booco picked up where he left off.
On Booco's second state go-around ride, he scored a 73-point ride on Black Cat to solidify his close lead overall ahead of Chris Bartlett.
"After coming back off that injury in January, it turned out to be a dang good year," Booco said.
With his prize saddle in tow, Booco will spend the next week doing a little work around Hayden for Booco's Contract Services and spending his weekends bow hunting.
Then it's back on the road. Booco heads out Sept. 22 on his cross-country quest to earn a full-time living riding bulls at the PBR events - from New Mexico to Oklahoma to Maine to Texas as the list, and the dream, goes on.