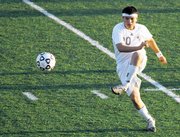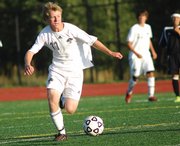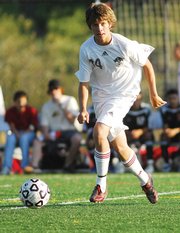 Steamboat Springs — The boys on the Steamboat Springs soccer team knew Eagle Valley had the talent to go on offensive tears. Devils striker Cesar Castillo has notched 11 of his team's past 14 goals, including a pair of five-goal games.
But Tuesday night at Gardner Field, the Sailors stepped up on a defense that
had allowed eight goals in their past two league games. Anchored by goalkeeper Connor Birch's career-high 12 saves and a relentless fullback foursome of Kevin Bertrand, Bryce Peters, Michael Lyon and Andrew White, Steamboat held Castillo to his first scoreless game of the year en route to a 1-0 shutout victory. It was the Sailors' first win of the season.
"He had some skills, but our whole team shut him down," said Peters, shrugging off a pair of skinned shins, the result of repeated slide tackles on the artificial turf surface. "It was definitely a team win."
Steamboat opened up with a few chances in the Eagle Valley zone before the Devils began the counterattack and put the ball on its playmakers' feet.
Birch made his best save of the night 10 minutes in, when Eagle Valley's David Shea had a clean look at the far post. Birch laid out to stop the low shot and followed it with a point-blank tackle of a save on a Castillo breakaway.
"Connor was solid - he was proactive and commanded the box," Steamboat coach Rob Bohlmann said.
Eagle Valley goalie Trevor Grayson answered with his best save of the night on a shot to the top corner from Tony Rende. On Rende's next trip, he crossed the ball nearly from the end line, right to Max Marno's foot. Marno turned and buried the shot past Grayson.
Steamboat ended the half with its most aggressive defensive play of the year. Bertrand jumped in front of Devils players to intercept passes, and Peters and Lyon stopped Eagle Valley from generating shots. They also didn't hesitate when they had a chance to clear the ball.
"We just wanted to get the ball before they did so they'd have no time for any tricks," Bertrand said.
The 1-0 score didn't reflect the intense back-and-forth second half that featured 10 shots each from both teams. Eagle Valley's best opportunity came when Castillo served in a ball that Luis Corral hit high over an open net. Steamboat continued to shut the door as Eagle Valley's sense of urgency to score increased. Lyon had a clutch slide tackle on a final Castillo breakaway, and Birch made a save on a bullet of a Castillo direct kick to seal the shutout.
Eagle Valley coach Jason Rittmiller called the game his team's "first eye-opener" after a trio of wins. Rittmiller also noted the ineligibility of a key striker, a loss that not only changed "the whole structure of the team," but also caused the Devils to forfeit their first three wins. The loss put Eagle Valley at 0-4 overall and 0-2 in league play.
Bohlmann said he was pleased with his team's solid play in the back and in understanding the priority of controlled possessions.
"It's positive when we're working that hard, and it's a step in the right direction," Bohlmann said. "You've got a hard-fought game and a first league win - it's a very good night."
Steamboat (1-3-1 overall, 1-1-1 in league) plays at 11 a.m. Saturday at Glenwood Springs.
- To reach Dave Shively, call 871-4253
or e-mail dshively@steamboatpilot.com